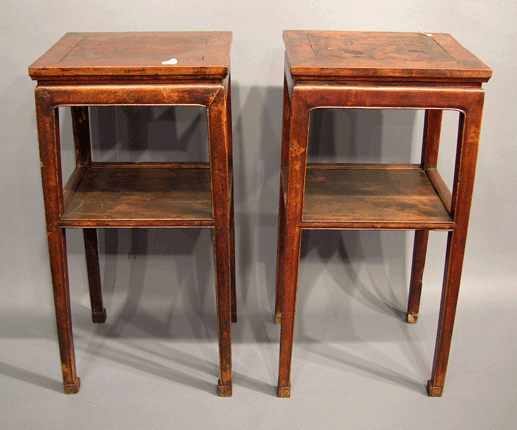 18th C, walnut, Shanxi.
32½" h. 16¼" w. 14½" d.
The pair is finely crafted in a waisted style with a molded 'ice plate' top panel, a central shelf, and legs tapered into angular scrolled feet.  The inner edge of the legs as well as the stretchers forming the middle shelf are beaded, always a sign special attention is given to the construction of the piece to make it look elegant.  Using walnut for its construction is another sign this pair was valued.  Walnut is a wood the Chinese has always prized as a furniture-making wood because of its fine texture and density.
This pair of tables is in good condition with its original brown lacquer intact. Some hair-line cracks occurred from aging in a high and dry climate the Shanxi region generally experiences.
Price: $2500 pr.