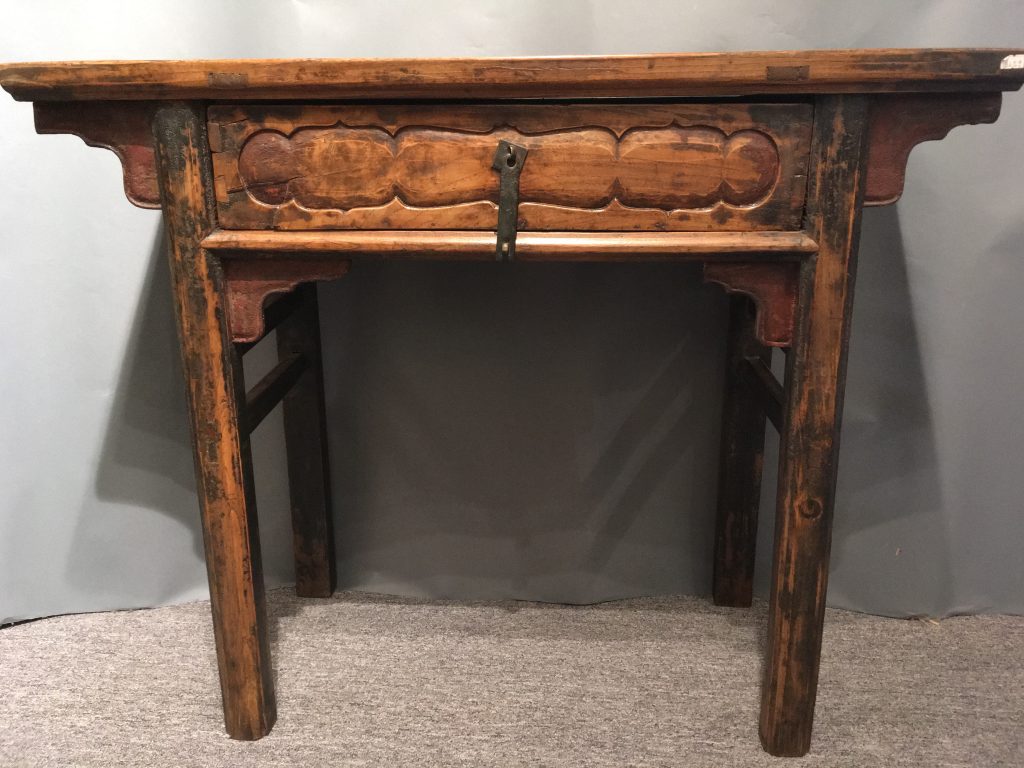 18th/19th C, elm; Shanxi province. Traditional construction; original drawer pull; natural tree lacquer over core wood.  40″ w, 16″ d, 33″ h.
This table has the traditional mitered, mortise-and-tenon construction.  It has a floating panel at the top, with ends of tenons showing on the surface.  The drawer and legs are recessed under the top.
The drawer is of dovetailing construction. The front shows a "taohuan panel" with an attractive recessed relief carving of a begonia-shape design with lobes at each end.  It has an original iron tongue-pull that can be locked to a ring secured to the "sword-ridge" molded stretcher below the drawer.  There is no apron below the drawer, just a short curvilinear beaded spandrel at each end between the legs, and under the table-top panel. Two molded side stretchers span the legs, adding support to a table with such wide open space between slender long legs.  Because of this open space where a chair or stool can easily be positioned, this side table was likely often used as a desk.
The table was originally painted with a thick dark lacquer, with all the spandrels and the begonia-shape design painted red, but now the table top shows only a hint of the black lacquer, with traces of the red lacquer detectable at the lobed ends of the begonia.  Other than having some lacquer faded with age, this period piece is in excellent condition.  The table has such a clean profile it would fit easily in any room today.
Price: $2,499