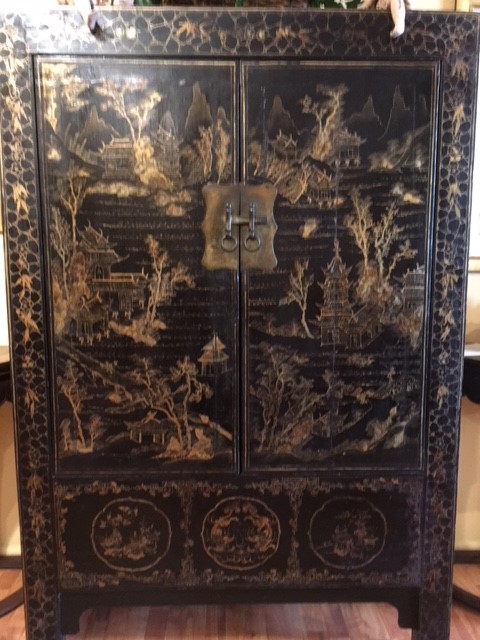 Mid-1800s, elm, Shanxi.  Gilded paintings with designs favored by elite class; superb condition; original lock-plate; no restoration.  47.5″ w, 22.75″ d, 71″ h.
Shanxi is known for having some of the best quality furniture made in China.  This beautiful big cabinet with thick black lacquer and gilded paintings was most likely made for someone of high-status during Emperor Qianlong period.
On this cabinet, the pair of doors is arranged like a set of matching screen paintings, with each door showing a continuous gilded landscape scene with distant rocky precipices, mansions, pagodas, and bridges set among lush gardens.  Below this pair of doors is a decorated panel hiding an extended storage space behind.  The front of this panel is divided into three sections with each showing a medallion with gilded paintings.  The middle medallion shows two dragons chasing a jewel while the medallions on each side show the "Hundred Antiquities" motifs, all symbolic designs favored by the elite class of the time.  These medallions are decorated around the edge of the panel by gilded angular and floral motifs.  The cabinet has gilded paintings of scattered leaves and flowers on its front framework.  All these gilded paintings are protected by a blending of clear lacquer and tung-oil, the reason why the paintings are so well-preserved.  The thick lacquer underneath, however, shows some thin cracks at places.  Thick layering of lacquer is labor intensive and costly, but it also means a piece of furniture with thick layering is more susceptible to cracking with age.
The interior of this cabinet is fitted with a shelf with two drawers.  The panel below the pair of doors hides an extended storage space behind.  The brass lock-plate and door-pulls are original, but the brass drawer-pulls inside might not be.  The recessed side panels of the cabinet have supporting cross bars on the outside.
The cabinet is beautifully decorated and well-built.  It can be compared to the chinoiserie style cabinets that were the rave of Europe in the 18th century and is still popular and expensive today.
Price: