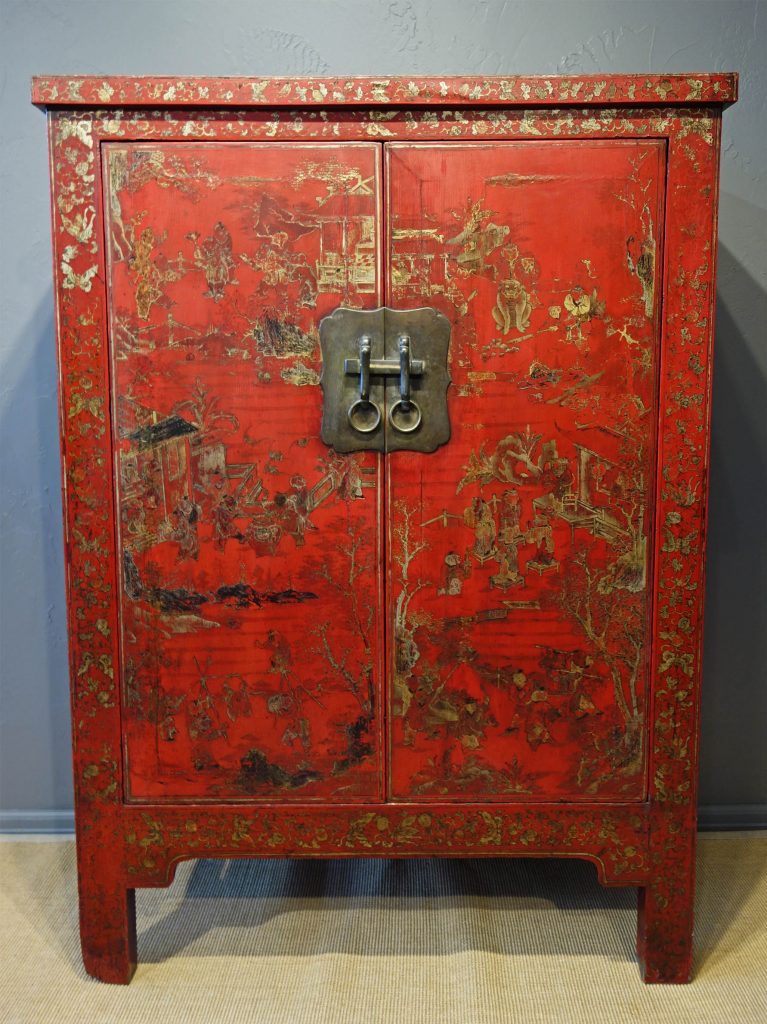 18th c, elm, Shanxi.  Famous theme with gilding; shelf with two drawers inside; original hardware, good condition.
42" L, 58" H, 20"D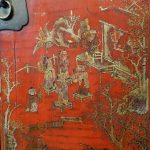 "One Hundred Children" theme is very famous in China, as well as in Korea and Japan.  It is a Taoist theme.  The "one hundred" and "ten thousand" numbers signify abundance.  The theme originated from screen paintings on 8-10 panels depicting high society little boys in court costumes, pursuing princely activities in an imaginary palace garden with pavilions, balustrades, trees, flowers and exotic garden rocks.  Furniture painted with this theme was often given as wedding gift to a newly married couple to inspire the bride to conceive.  Since boys were preferred, children depicted were all boys.  The frame members on the front of the cabinet have paintings of butterflies, scrolling lotus, and gourd, symbolic of long life, purity, and abundance.  All the designs together mean a wish for good blessings for the couple.  Since the paintings are all gilded, its richness indicates that the cabinet was made to be presented to a couple from a family of high prestige.
The interior has a shelf with two drawers, dividing the storage space.  The drawer front is lacquered red.  The pulls are original and are in the shape of a peach and peach flower petal, signifying fertility.  A low red panel across the bottom compartment prevents stored items from falling out.  The recessed side panels are lacquered dark brown.  Each has a cross bar in the middle and two at the bottom.
This handsome piece survived in very good condition, with slight splitting at joint lines on the heavily lacquered front panels, not unusual with furniture heavily lacquered.  Lacquering is a very labor-intensive process, with the more layers, the more it costs to be done.  Thick lacquer also tends to crack with age.  Since it is very difficult for modern antique restorer to touch up any red lacquered piece to match the original cinnamon red pigment, it is best to leave the piece untouched.  Furniture with crackling on lacquer actually helps to proves its antiquity.
Price: