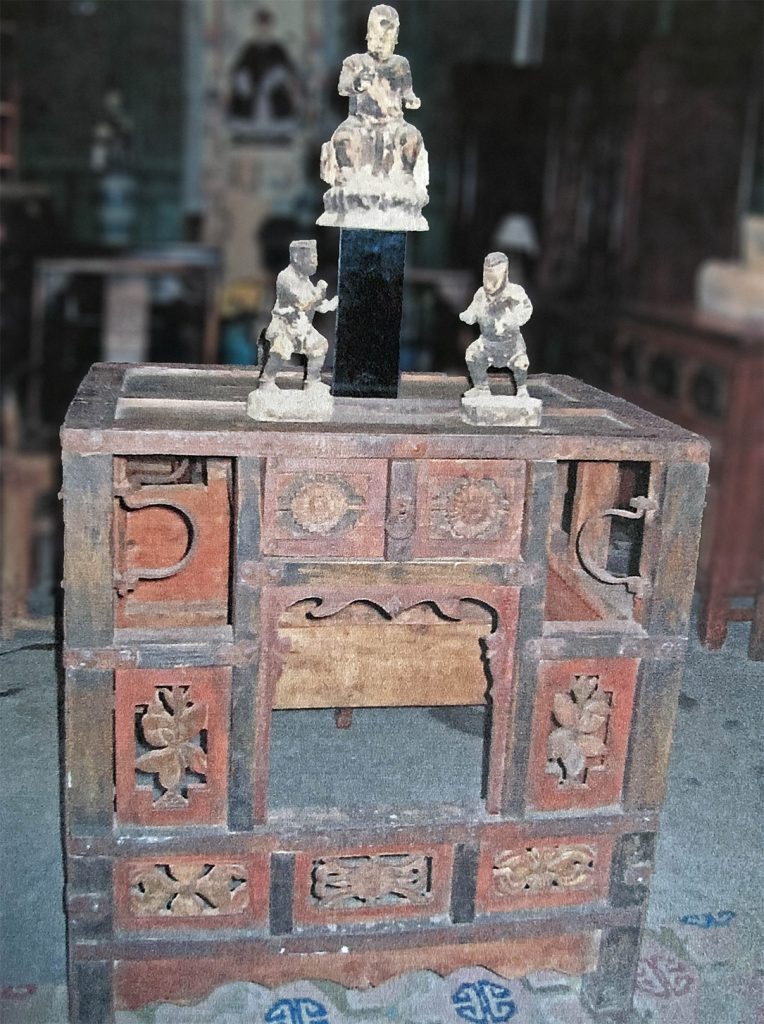 15th/16th Century; elm; Shanxi
This chest, a sort of altar table, was made to transport a big Buddha figure throughout villages for special events like New Year and Moon Festivals.  The Buddha was carried at eye level by four attendants, two on each side, supporting wood or bamboo poles.  Villagers could donate money in exchange for protection of their homes and village.
The table has straight corner legs reinforced with iron bands and nails.  The ironwork is hand cut and has rusted with age, blending in very well with the traces of old lacquer and paint.  Metal adds prestige to furniture in the olden days, but it means more than that with this chest.  Since it has to be lifted and carried about constantly, it has to be made strong with metal support.  Iron has that quiet strength.
The small panels in front are decorated with pierced carvings of flowers and flower heads.  Two flower heads adorn the divided front of the only drawer on this table.  Between the panels is a strut with a pull ring.  Openings at each chest corner are for housing the iron handles, which pivot out to hold the carrying poles when needed.  The interior walls are traversed by stretcher bars which once no doubt acted as ledges for a board to rest on.  The board would hold food and other offering paraphernalia, which could be accessed through the front opening.  When not traveling, this chest would be used as an altar table.  A religious relic like this chest surviving a Cultural Revolution is rare.
Price: