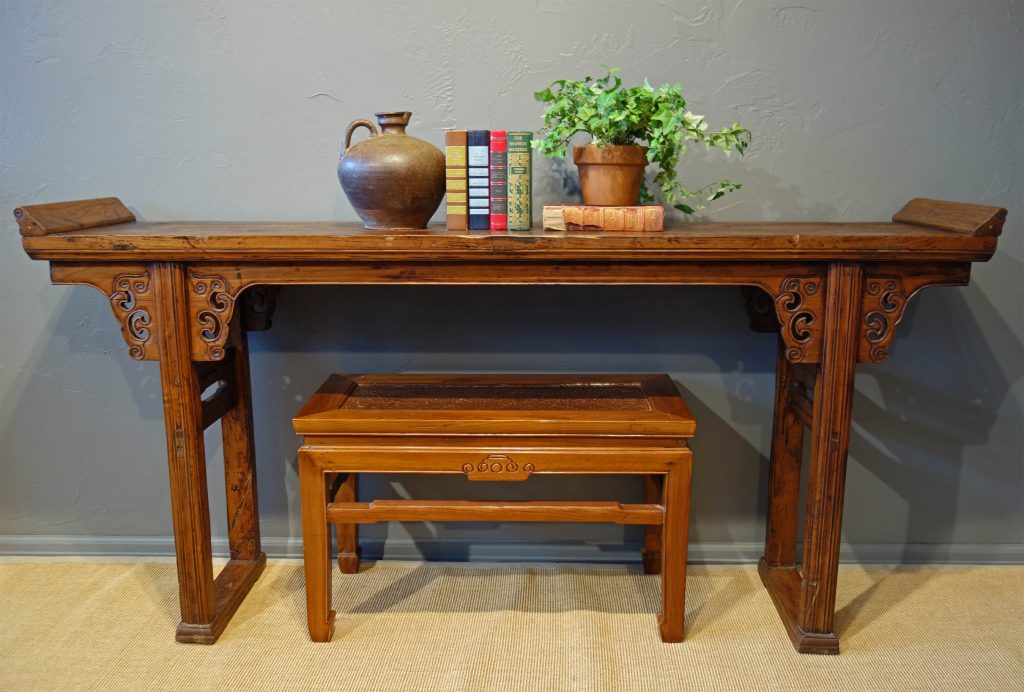 Mid 18th C, Northern Elm, Shanxi. Of traditional design and construction; "'taohuan" side panel between legs; top shows patina of old age.
73" w. 14½" d. 34" h.
This altar table is constructed in the traditional mortise-and-tenon method. It consists of a top with a floating panel (to absorb warping in fluctuating climate) in the middle, "water-stopping" molded edges, and a molded everted flange at each end. Constructed to be floating in the center of a room, the design on each side is identical.
The decoration reflects a cultural heritage and conservative preference of the Shanxi people of the region. The straight beaded-edge apron ends with spandrel-heads pierced with carvings of stylized "ruyi" and cloud forms, which together symbolize "harmony, happiness and good fortune as you wish". Ruyi is an age-old Buddhist symbol throughout China but especially in Shanxi as Northern Shanxi has been associated with the earliest transmission of Buddhism from India during the Han dynasty (206 BC-220 AD).
A decorative design associated with early traditional style is the use of a "taohuan" panel between each pair of legs. (Taohuan is the general Chinese term used for narrow, usually horizontally oriented decorative panels, the use of which is commonly associated with an early traditional style found throughout China). The taohuan panel here has raised borders with a lobe at either end, and is set recessed about half-way up the legs between two stretchers with convex "bamboo molding". The legs are set on base stretchers. With so much fine decorative details, this table was likely made for a Qing literati.
This table shows great patina.  Traces of original dark lacquer remain on the wood surface.  The top shows at places weather-worn "snake-skin" scarification and small burn marks, in character with an aged altar table. Small imperfections give antiques character, making them more interesting as  cultural objects which have lived and been used.