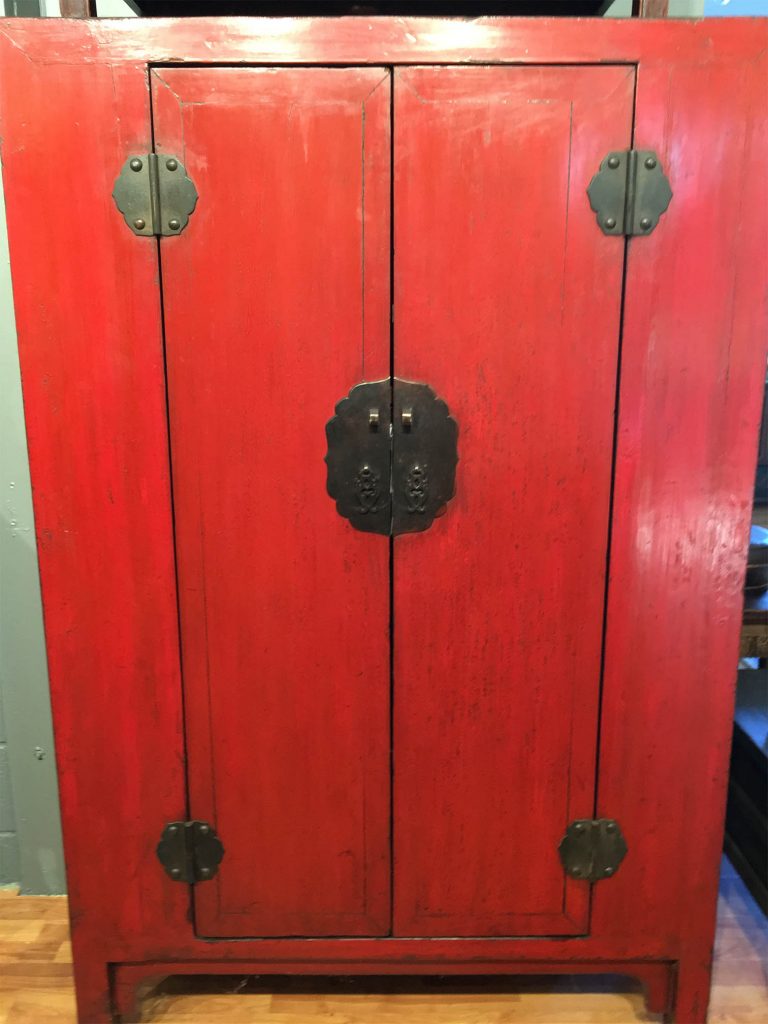 Mid Qing Dynasty, Elm, Shanxi.  Simple style with beautiful original hardware; has timeless simplicity
39.5" L. 19.75" D. 75" H
This cabinet shows a thick red lacquer finish with a high sheen.  This 'sheen' is created by the red lacquer mixed with an agent.  A "polished" look was what was desired by Ming early period literati.  With this cabinet, the simple classical style indicates it was likely made for a scholar who followed Confucianism's basic concept of dignity and simplicity.
The brass lock-plate on this cabinet is fashioned with foliated edges and the door pulls in the shape of confronting dragons.  The door-hinge plates compliment the door lock-plate, fashioned in the shape of a flower petal, each attached to the cabinet with big decorative boss-head nails.  The highly decorative brassware sets off beautifully against the simple line of the cabinet.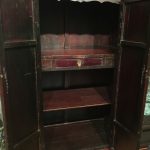 The pair of doors opens into an interior with a fixed shelf and a narrow drawer.  The framework of the drawer shows exposed tenons, indicating a traditional method of construction on the cabinet.  The top edge of the inside of the cabinet is fitted with a curvilinear apron with a cusp in the middle, which is a popular design on furniture of an early period.  Part of the fixed shelf is replaced.  The pair of doors is flushed with the frame of the cabinet, which on both sides are almost as wide as the door panels.  These doors extend just short of the floor, ending above a narrow simple apron.
This antique cabinet is in good condition.  The only indication it has been worked on is the lock-plate and hinge-plates might have been removed to get polished and then reattached.  A simple-looking chest like this is timeless; it was easy to live with back then as it is easy to fit into today's contemporary setting.
(When China opened to the West and this cabinet was discovered, several reproductions using this cabinet as model were made for overseas dealers as TV cabinets).
Price: