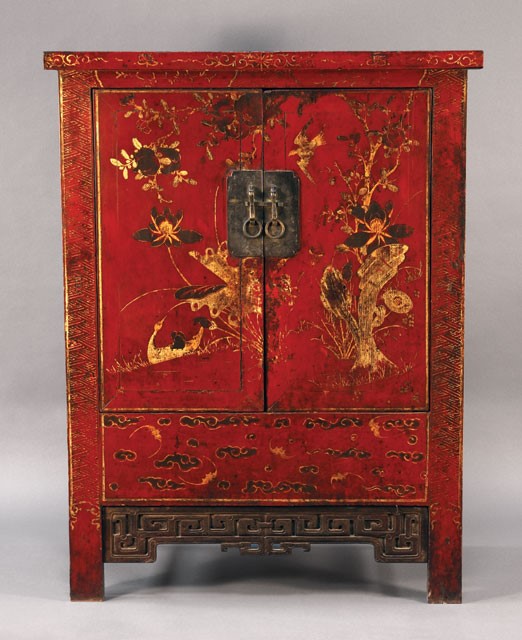 Mid 1800s, Northern Elm, original hardware; Shanxi.  Gilded auspicious paintings; all-original; excellent condition. 39″ W, 20″ D, 51.75″ H
This cabinet is constructed in the recessed legs, overhanging cap frame style typical of the Shanxi Region.  Except for the apron between the legs at the bottom, the entire front is lacquered red, decorated with gilded floral paintings.  The top and recessed side panels are lacquered black.  The side panels have supporting cross stretchers on the outside.  The flushed door panels are fitted with hidden pivot hinges.  There is no removable central stile.
The door panels have black and gold floral painting of pomegranate, lotus flowers and buds, and a gilded bird flitting through this harmonic scene.  Below the pair of doors is a wide horizontal panel with black and gilded paintings of the mystical clouds and bats, symbols of abundance, happiness and good fortune.  The frame borders have gilded motifs of scrolling vines and the key-fret or "thunder pattern" intertwined with the swastika design, known in China as the footprint of Buddha.  A bottom movable apron in metal brown color has beautiful deep relief carving of an archaistic geometric pattern, sometimes interpreted as "The Running Dragon", a design prominent during the 18th century, Emperor Qianlong period.  All these motifs together convey a family's wish for protection from evil, many male progeny, modesty, peace, happiness, rich blessings, and longevity.  The interior compartment has a shelf in the middle, and extra storage space hidden behind the painted horizontal panel.
This cabinet is all-original, including the brass lock-plate and pulls, which often fail to survive The Cultural Revolution due to the need at that period for the government to confiscate metal for military and industrial use.  This beautiful piece will grace a traditional room and add interest to a plain contemporary one.
Price: Est: $3600