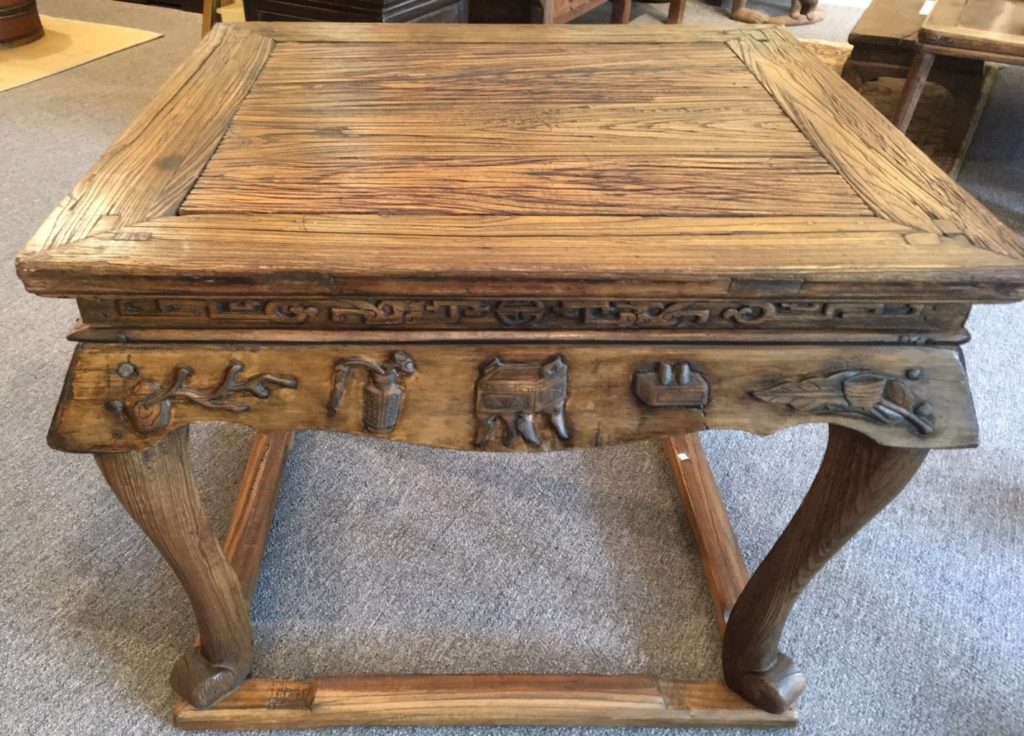 15th/16th C, Sophora (Huai), Shanxi.  Exceptional construction from extinct wood; distinguish deep grains, never warps; refined styled and carvings.      30.5″ square, 30″ high.
This table is rare not only because of its age but also because it is made of Sophora wood, which became extinct by the end of the Ming period.  It was the wood of choice as furniture building material during the Yuan and Ming dynasties because it is very dense due to its slow growth, naturally resistant to moisture and insect damage, and has decorative deep grain pattern.  Its over-use caused the demise of the wood by the end of Ming Dynasty.  This table is special also because it shows a refine traditional formalized style with archaistic decorations.
The table is constructed in the traditional mitered, mortise-and-tenon method.  The top has a floating panel in the middle and "water stopping" molded edges.  The frame members are joined at the corners with the corners pinned by double lock tenons of the legs penetrating through the top, an early technique prior to the development of more sophisticated joinery.  The waist is further securely joined to the legs by boss-head iron nails.
This table is high-waisted.  The recessed beaded waist has deep relief carving of stylized dragons with angular scrolling bodies confronting a "long life" design in the middle.  Below the waist is a wide arched skirt with its smooth surface used to display deep relief carvings of archaistic symbolic motifs.  The carvings consist of the "Eight Treasures" and the "Attributes of the Scholar", decorations relating to Confucianism and Buddhism.  An Artemisia or Yarrow conveys divine blissfulness; the Chessboard, skillfulness and keen perception; the Vase, a reliquary, symbol of eternal harmony; and the Wish Granting Wand, wishes for professional and personal success.  The cabriole legs are overhung by the skirt at the top part, then gracefully swells out in front but stays flat in the back, tapering down to terminate in claw-like scroll feet attached to humpback base stretchers.  The Sophora has such beautiful deep grain patterns the piece needs no painted ornamentations.  It is in excellent condition.
Price: