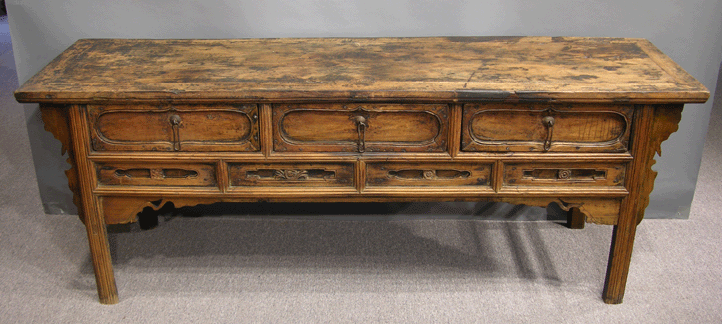 15th/16th C; Shanxi; Northern Elm, original iron pulls and hammered nails.  84″ w, 24″ d, 30.5″ h
This table exhibits an early traditional style with mitered, mortise-and-tenon construction. The top has a floating panel, and the legs are visibly tenoned through the tabletop.
There are three drawers below the top plank, with four "taohuan" panels below them.  ("Taohuan" is the term for narrow, usually horizontally oriented decorative panels).  Each drawer front has a recessed beaded oblong design with cusps in the middle.  The drawers show dove-tail construction.  The spindly iron drawer-pulls are original.  Each panel below the drawer has a "taohuan" panel with lobed ends and divided in the middle by a carved rosette.  The drawers at the top and the taohuan panels below are separated by "sword ridge" molded stretchers and struts.  Scattered around the drawers and the taohuan panels are hand-hammered boss-head nails.  The apron stretches from a long narrow center to a wide floriated apron-head at each end.  The long spandrels along the legs have floriated edges.  Each end of the table has a recessed panel and double stretchers between the legs.
This table has a weathered look. It was once coated with a dark lacquer but most of it has faded with age, with only the top panel showing patches of it, exposing the original elm wood preserved with natural tree lacquer.  It has an excellent patina.  Nothing has been done to compromise this table since it was found in Shanxi.
Price: