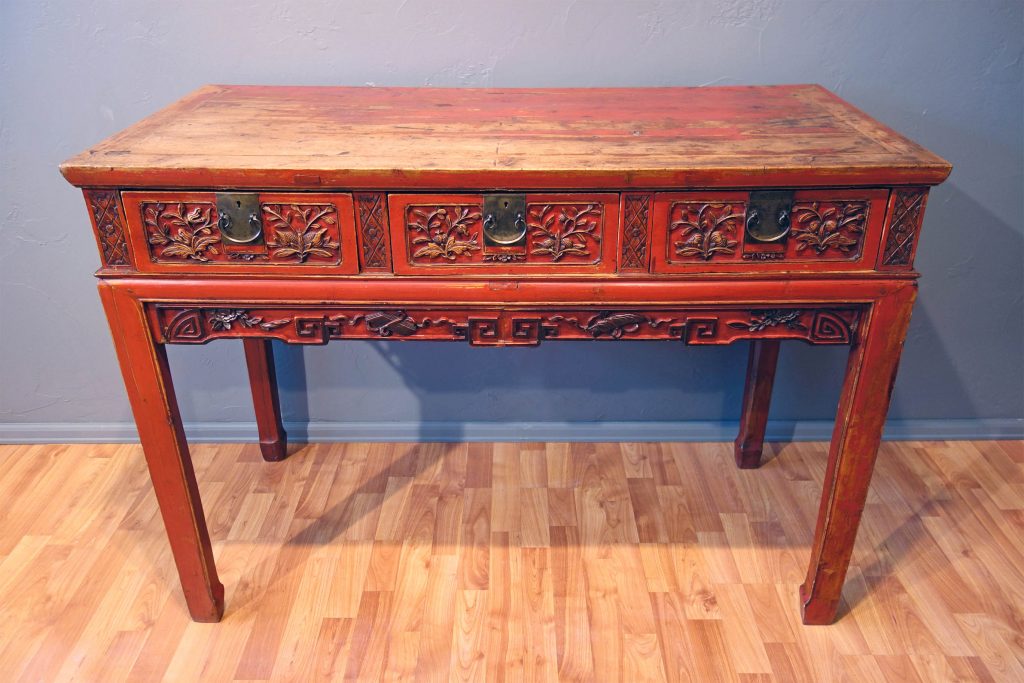 18th C, Cypress, Fujian.  Original lacquer and brass lock-plate; gilded relief carvings with symbolic significance.  48.25″ L, 23.25″ W, 35.5″ H
This desk has three drawers which are separated by struts with relief carving of diamond-shape brocade diapers centered by a stylized chrysanthemum flower-head signifying a pleasant life and generosity.  Each drawer has gilded relief carvings of fruits and seasonal flowers with symbolic significance:  The Buddha Hand Lemon symbolizes wealth, the Pomegranate with many seeds symbolizes fertility, and the chrysanthemum signifies a pleasant life and generosity.  On the front apron are relief carvings of the peony flower at each end, symbol of wealth, honor, and nobility.  In the middle are carvings of the Books (erudition) and the Scrolls (artistic talent and love of the truth), two of the Eight Attributes of a Scholar.  Twining between these symbols is the angular Continuous Life design, a motif repeated on the side aprons.
This desk has original old-fashion brass lock-plates.  The key is missing.  The framework below the drawers is edged with beading which continuous down the inner edge of the legs.  The legs end in modified hoof feet.  The top panel has a crack, but the piece is all-original and has a patina that shows it was much appreciated and used.
Price: Est: $3250