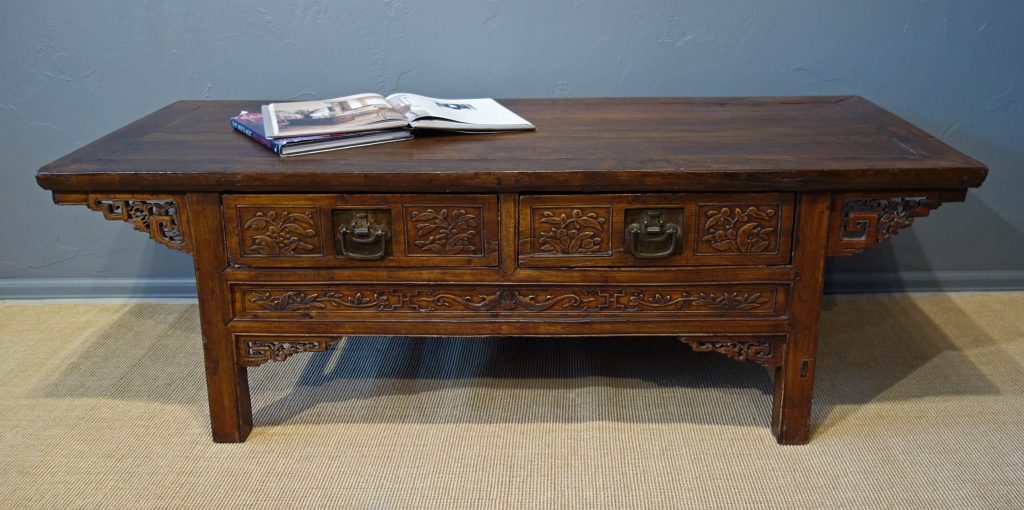 Late 1800s, cypress, Anhui. Both sides decorated so can stand beautifully in middle of room; drawers have original lock-plates
59.5″ L, 24.25″ D, 19.75″ H
There is no 'coffee' table in China but this low table would make a beautiful one in a living room. Furniture from Anhui tends to have delicate lines and lovely carvings. This low table is carved on both sides with relief-carvings of seasonal flowers and birds.
The construction follows the traditional mitered, mortise-and-tenon method. The extended top has a floating panel in the middle for adjustment to changing climate. The two drawers in front have carvings of peonies on each side of a brass lock-plate with traditional pull handles and locking device. A recessed panel between two beaded moldings below the drawers has relief carvings of a bat with spreading wings, and trailing floral vine on either side of the bat. This design is repeated on the bottom panel in the back. The bat is an auspicious symbol of good fortune and happiness. The spandrels below the apron and those beside the drawers have pierced carvings of angular scrolls and a leafy pattern that could be viewed as stylized running dragon. These designs signify continuous life. The back panel has relief carvings of seasonal flowers and birds, together conveying wishes for wealth and happiness. This refined piece survived in excellent condition.
Price: Est: $2,500