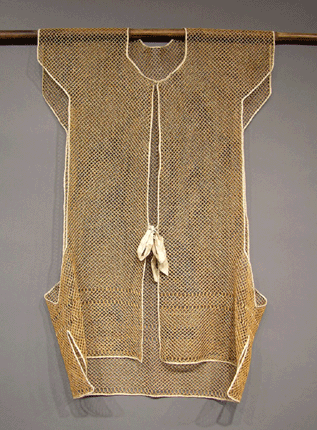 Rare Mid-Qing Dynasty, circa 1790, grass bamboo, Shanxi. 33″ L.
This vest is skillfully woven in fine grass bamboo.  It is specially made for a bride and groom to be worn over their outer silk garments on their wedding day.  The openwork bamboo provides ventilation and protects the silk outfit.  Under the fine clothing the couple would wear a two-piece suit of plain white cotton as their innermost layer of clothing.  This suit was the mandatory outfit prescribed for the solemn purification rite which took place in the pre-dawn hours of the wedding day and would be carefully preserved to the end of the owner's life for final interment in the coffin.  It might also be so treasured it would be kept passing on to the next generation for another wedding.
Antique bamboo vests are hard to find in China today.  It involved some effort to find one in Shanxi for our collection many years ago.  One was appraised highly by an Antique Roadshow judge some years ago.  The present one is woven more elaborately and is in excellent condition.
Price: