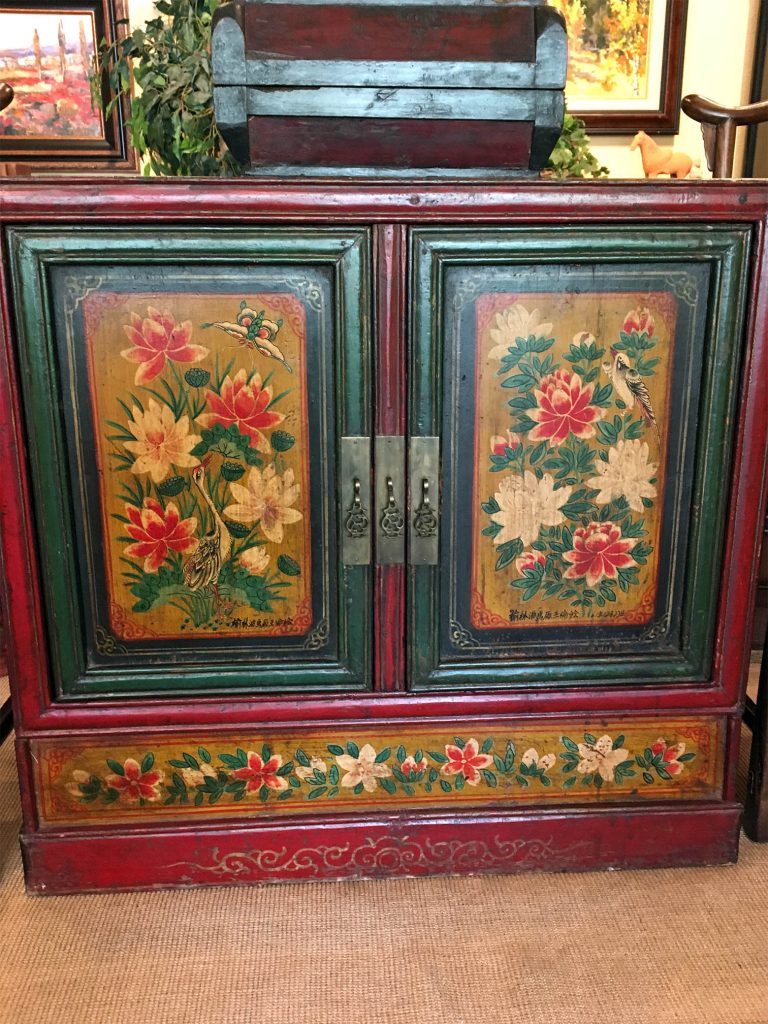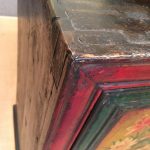 19th c, pine, mineral colors, Inner Mongolia.  Valuable enough to be presented as gift to an art association in China.  35″ w, 18.5″ d, 33.5″ h.
This chest was made in the 19th century and later presented to an art association in China on a special occasion in 1961.  The occasion is asserted in black painted characters at the bottom of the two front doors.
Much of the furniture from Mongolia is lavishly painted with wide strokes and vivid colors, much like furniture from Tibet.  The colors most often used are red, yellow, and green, as demonstrated on this chest.  Tenon heads and wooden nails on the surface of the chest show it was constructed in traditional method learned from the Chinese.  The top panel is cut at each end to enable it to dovetail directly into the side panels.  The straight front edge of the panel is joined to a very narrow strip in front, which constitutes the top of a molded frame for a pair of doors in front.  The strip widens at each end to form an angular patch that bends and dovetails into the side panel of the chest.  This is quite a unique construction feature.
The frontal framework of this piece is lacquered red, with the top and side panels painted brown.  The pair of door panels is double-framed with green color moldings on the outside, then black ones surrounding a recessed painted panel in the middle.  Each door has a painting with a floral theme, with flowers painted in uniquely vibrant Mongolian colors.  Big blooming peonies are painted in red and white, and leaves in green, on a yellow background.  Birds and insects play around these glowing flowers.  Double red lines with scrolling design at each corner border the yellow painted panel. The frontal frame members around the doors is lacquered red. A red molded removable center stile separates the doors which close flushed with the stile.  Narrow brass lock plates with openwork brass pulls are fixed on the doors and stile.
Below the main unit with doors is a recessed panel with floral painting echoing the theme and colors on the door panels.  These floral-decorated units sit on a slightly extended red base decorated with gold scrolling vines.  The interior storage compartment is fitted with a shelf which can be removed to provide extra storage space hidden behind the decorative red base panel in front.
Since this beautifully painted book chest was admired enough to be presented to an art association in China, it should be a worthy piece to collect.
Price: $2,499