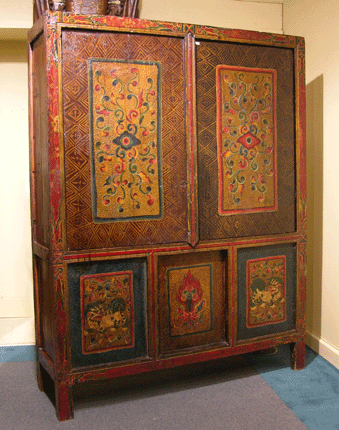 19th C. or earlier
Pine, mineral colors, guilding
68½" H. 52½" W. 16" D.
This cabinet was made for a temple or monastery in Tibet.  Because of their largely nomadic existence, most ordinary Tibetans had little if any furniture.  Small tables were used to serve food and drink, and often double as altar table on which offerings could be placed.  Chests were made for more affluent members of society to store precious things, and for monasteries and temples which needed large cabinets to store the vast quantities of precious silks, thangkas, and Buddhist scriptures accumulated through trades and donations.
As only softwood like pine and cedar could grow in Tibet, instead of focusing on making items from precious hardwood like it did in China, Tibetan furniture makers displayed their talents through surface decoration like painting and carving.  Like all areas of Tibetan art, these often relate to a strong Buddhist culture, typically taking on Tantric practices originating from India.
To create their designs, Tibetan painters used mineral pigments suspended in animal glue, mixed by hand and applied warm.  A relatively limited range of colors was available prior to the 19th C.  The most frequently used were green, dark blue or blue-green, deep red, orange, yellow, as well as white and black.  Pigments of brighter and lighter shades were only available by early 20th C.  The dark pigments used on the present cabinet point to it being of an early age.  In addition to paint, the Tibetan artisan used gesso to create raised designs and textured surfaces, which produced a very rich embossed effect.  Furthermore, he finished the cabinet with a coat of transparent shellac to intensify the colors of paint and to provide some protection.  With age, the shellac turned yellow and brown, making the colors underneath darker and warmer in tone, providing a richer patina.
This cabinet is constructed with recessed panels within colorful framing posts and molded stretchers.    Within the framing posts in front is a pair of big door panels concealing a vast storage compartment, with three smaller panels below concealing more storage space.  On each door panel is painted a border geometric textile design, which is a copy of a Chinese brocade design popular for filling in backgrounds and borders of early period furniture.  This textile design surrounds a rectangle with a narrow green border within which is painted stylized floral designs.  The middle of the three panels at the bottom can slide open sideways for excess to the storage space behind.  On one panel is painted a mythical snow lion within a rectangle and flaming jewels on the other two.  The snow lion motif is unique to Tibet.  It acts as a guardian figure for some Tibetan deities and is the vehicle for Vaishravana, a god of wealth.
This cabinet has all the characteristics of an early age Tibetan antique chest.  It is not as refined as some Chinese hardwood furniture, but its cheerful colors and folksy paintings make this a charming Tibetan treasure to collect.  Authentic Tibetan antiques are rare today and valuable because they are banned from leaving the country.
Price: