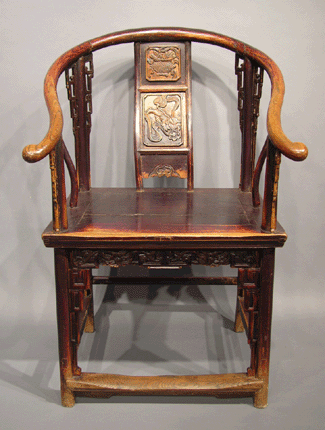 17th C, Northern Elm, Shanxi.  This "Grand Tudor Chair" has a wide seat; worn footrest testifies to antiquity.
39" h. 25½" w. 25" d.
This type of chair was a marker of high status.  It has been known as a 'Grand Tudor Chair' as it was sometimes the official seat of the magistrates.  The excellent workmanship and magnificently carved auspicious motifs on it point to it being a seat of honor.
The three-piece armrests and crest rail are joined with half-lap joints locked with pressure-pegs at an angle to draw the matched surfaces firmly together.  This technique is usually associated with the Shanxi region, known as 'the Birth-place of Traditional Chinese Culture'.  Three earliest legendary emperors came from there. The region was also the banking and commerce center of China.  Many merchants were affluent enough to commission fine furniture for their elegant homes.
The framed backrest has an S-shape profile and is sectioned off into three panels.  The top one has an indented-corner square with fine relief carving of an offering vessel.  A large rectangle with indented corners in the middle panel features relief carving of a lively "qilin", a mythical animal with the head of a dragon and the body of an animal, believed to be one of the sons of the dragon, and is an emblem of high status.  The slightly curved shape of the back splat not only is aesthetically satisfying but also acts to increase the comfort of the sitter.
The seat frame is joined with standard mitered, mortise-and-tenon joints, and has a flush hard seat, which developed a slight crack across the middle due to aging but is now filled in.  There is a recessed apron on all four sides.  The one in front has relief carving of scrolling floral design, with tapering angular design spandrels running down the sides of the half-round beaded legs.  The side aprons have scrolling floral edges with a cusp in the top center.  The back apron is plain.  Below the seat panel are two cross bars acting as braces to support the weight of the sitter.  The brace stretchers are stepped towards the back, which traditionally considered to imply "ascend with each step", a wish for promotion.
This chair has a wonderful patina.  It has retained most of the dark lacquer finish but shows evidence of wear, especially on the bottom front stretcher, which acts as a footrest.  Footrests are necessary in northern part of China to keep the sitter's feet from the cold and dampness of the immediate floor level.
Excellent workmanship matched with uniformly high-quality material no doubt account for the fact that this ancient piece survived in excellent condition.  It is not only well-made but is also a very comfortable chair because it is well-balanced.
Price: