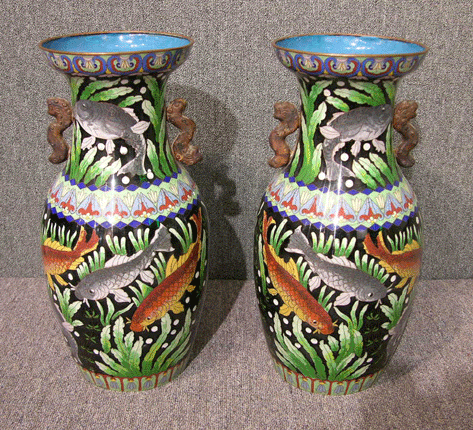 First half of 19th Century.  Heavy copper body; carp design on cloisonné rare.
17.5" h. 8.5" w.d.
This pair of cloisonné vases is formed on a copper base.  It shows a gently curving ovoid body decorated with brilliantly colored carps swimming among long, thin seaweeds.  The design is repeated on the gently curving neck, which is appliqued with a pair of copper wriggly dragons as handles.  The wide mouth band is decorated with a frieze of ruyi lappets and the shoulder of the body that of stylized floral petals.  The base of the vase ends in a frieze of contiguous lotus petals.  The combination of fish and lotus has the meaning of "may you live in luxury year after year".  The inside of the wide mouth is coated with turquoise enamel.  There is no foot-ring.  The underside of the vase shows cast-copper with an inner circular ridge before being filled in the center with turquoise enamel.
The carp symbolizes perseverance and success in business.  It is the fish most frequently depicted in Chinese art, but very rarely on cloisonné-ware.  This motif is shown on a cloisonné vase in the "Chinese Cloisonne:  The Pierre Uldry Collection".
Price: