Chinese Ceramic Wine Pot (Chiu Hu)
Chinese Republic Period (1920-1940)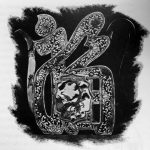 This early 20th century wine pot imitates one of same shape shown in Dr. Stephen W. Bushell's "Oriental Ceramic Art" originally published in 1896, with second edition in 1980.  It is molded in the form of the character 'fu', (happiness), and decorated sur biscuit in the typical "three colors" of the Kangxi period –yellow, green, and purple.
It has a flat body, with a short in-take spout with a lid in the form of a peach.  The sprout, lid, and main body of the pot are colored light green with the edges colored white.  On one side of the body is a slim looped handle and on opposite side is a long and narrow pouring sprout, both colored yellow with bands of black geometric lines hinting at the character "double happiness" done at intervals. The front and back light green surfaces are decorated with sprigs of seasonal flowers in yellow and purple.  The middle of the pot body is interrupted by a panel on each side with a painting in same soft colors.  On one side is painted a costumed gentleman exercising in a courtyard showing railing, pine tree, and a scholar's rock; on the other side is painted a boy leaping and playing in his corner of the courtyard.
This wine pot stands flat-footed on the unglazed bottom of the green body. There have been quite a few copies of same style wine pot made following the Republic period, but none can be compared with the superb craftsmanship this wine-pot shows, comparable to one shown in Kangxi, early Qing period.  (A wine pot of similar design, same period, was shown more dearly in a very reputable antique gallery in Hong Kong).
Price: $2,100