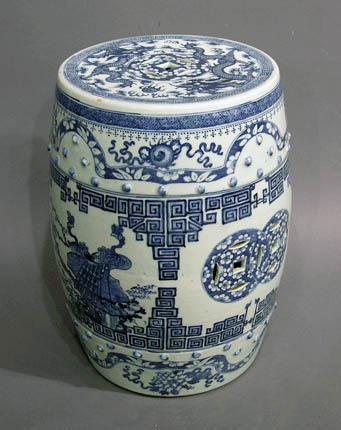 Ming Dynasty; porcelain; in excellent condition.  19" h. 15" d.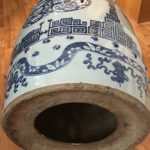 This barrel-shaped garden seat is painted with Ming period favorite motifs in blue enamel on transparent white porcelain.  The seat top has a pierced cash symbol in the middle surrounded by two sinuous four-claws dragons chasing a jewel among motif of clouds, symbol of wish for riches to rain down from heaven.
The swelling body of the barrel is divided into three decorative parts, with one raised band of circular bosses set above the widest part of the body and one above the foot.  The part between the flat top and the top band of circular bosses shows Buddhist emblems among a twisting ribbon scattered with cherry blossom petals, below a trellis diaper and a bead-droplet diaper.  The widest middle part is enameled painted with alternating designs of birds and flowers and a pierced double cash design.  The bird on one side is a peacock with a cherry blossom branch and on opposite side are two songbirds with the peony.  Bordering these pictorial circular wall panels are a diaper of the square continuous life design.  These designs together signify long life, wealth and nobility.  The bottom section shows Buddhist emblems among a ribbon with flower petals.  Ribbon signifies a wish for good fortune to come down from heaven.
This garden seat is in excellent condition, with age-old soiled hairline cracks at the bottom of the barrel to show its antiquity.
Price: Est. $3,600