| | |
| --- | --- |
| Top | Bottom |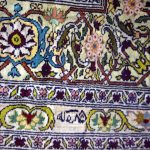 An authentic hand-woven silk-on-silk Hereke rug from Turkey, with the place it was made woven into the border of the rug in Turkish.  Length 78″, Width: 48″
This extra-large hand-woven silk rug was bought in Turkey in 1986.  A near identical rug was seen at the Dolmabahçe Palace in Istanbul in same year.  This tightly woven rug has a million knots per square meter.  The pattern on the reverse side of the rug looks exactly like the top.  The top side has a velvety feel to it when rubbed, and the sheen is different when viewed from different angles, characteristic of an authentic Hereke rug.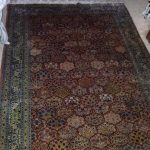 A history of Hereke rug and carpet making explains why an authentic vintage Hereke silk rug is special and valuable.  Hereke carpets were produced in Hereke, a coastal town in Turkey 60km from Istanbul.  The Ottoman sultan, Abdulmecid 1 founded the Hereke Imperial Manufacture in 1841 to produce all the textile for his Dolmabahçe Palace on the Bosphorus.  He gathered all the best artists and carpet weavers of the former Ottoman Empire in Hereke, where they began producing high quality rugs and large carpets with unique patterns.
After completing work on the Palace, the Ottoman sultans gave Hereke carpets as gifts to selected visiting royalties, noblemen and statesmen.  It was not until 1890 that some traders in Istanbul were allowed to sell some of the pieces made at Hereke.  With the end of the Ottoman Empire the production of Hereke carpets was restricted until the middle of the 20th century when some master-weavers in Hereke once more produce the carpets in continuation of the tradition of the Ottoman Palace carpets.  The precision of their double knots which allows the clear display of patterns, together with the color combinations and harmonious patterns have made them highly collectible.
Hereke carpets made today typically are made with wool on cotton, camel hair on cotton, silk on cotton, and to a limited amount, silk on silk knotted in small sizes.  Wool carpets typically are very large, and patterns as well as colors are not harmonious and subtle like antique ones.  Antique silk-on-silk hand-woven ones of large size, made with the traditional patterns and subtle colors of the Ottoman sultan, Abdulmecid 1, are very rare.
(Inquire about our smaller size, vintage hand-woven silk Hereke rug and Prayer rug).
Price: