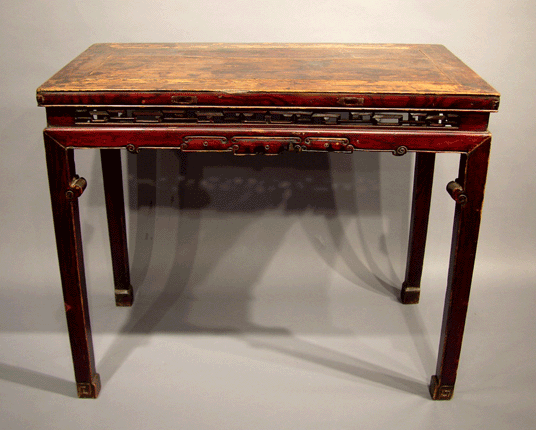 Age: 18th Century. (About Qianlong period)
Material: Elm top, possibly Nanmu body
Provenance: Shanxi
33½" h. 39½" w. 21¼" d.
Nanmu is a highly-prized furniture-making wood in China. It is resistant to decay and has minimal warping or splitting. Ming literati writing frequently mentioned it as material 'par excellence'. Fine nanmu wood is olive-brown or reddish-brown color.
This pair of tables exhibits fine workmanship in a traditional early-to-mid Qing style. The waist has openwork carving of the 'continuous life' motif, also referred to as the stylized running dragon, a typical design of the emperor Qianlong period (1736-1795). Below the waist are subtle low relief carvings of the mystic cloud. The straight legs are shaped with flanges, and terminate in hoof feet. This is a design favored by high officials. They used this kind of tables as wine, games, or writing tables.
Due in no small part to fine workmanship, and the use of quality materials, the pair survived in excellent condition. Much of the original dark reddish-brown lacquer remains intact. Since it is quite hard to fine quality antique furniture in a matching pair after the destructive Chinese Cultural Revolution period, the pair is more valuable collected together. Good antiques are highly priced in China today, and few are exported.