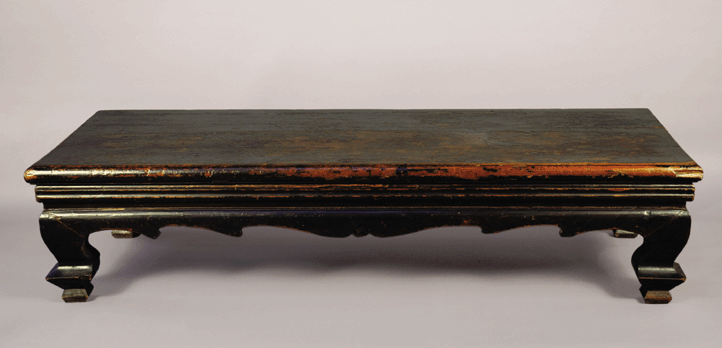 16th/17th C, Sophora, Shanxi. Considered "honorific seat"; of extinct wood, elegantly styled; aged but fit in contemporary setting. 15½" h. 69" w. 28½" d
Platform beds date as far back as Song Dynasty,  They were used as "honorific seats".  Scholarly gentlemen would relax on them to read classics, examine work of calligraphy or paintings, or simply enjoy some food and drinks. This platform bed is constructed in the traditional classical style.  It is rare not only because of its age but also because of the wood it is made in.  (Read about this wood, the Sophora, in our website on woods).
The wide top is comprised of two thick planks fitted snugly together and reinforced by two rows of big decorative boss-head nails which in that early era were very expensive to use.  This top has a round molded edge.  Below it the waist has two sharply molded sections. The upper section has double-incense stick molding while the lower narrow section is plain and recessed. The aprons round out to a lively, curvilinear line with cusps and arches, then curved into the legs with a generous radius. The legs terminate in graceful "praying mantis" feet.
This platform bed made of Sophora (Huai) is extremely heavy.  It survived in excellent condition, with its thick dark lacquer intact.  There is no "coffee table" in China.  This elegantly and classically styled low table will make a beautiful coffee table in a home traditional or contemporary.  Mix it with a pair of sleek-looking black leather chairs will be absolutely outstanding in a room.  It is a treasure to have because not many furniture from this era and made of this rare wood can easily be found today.
Price: $55,000