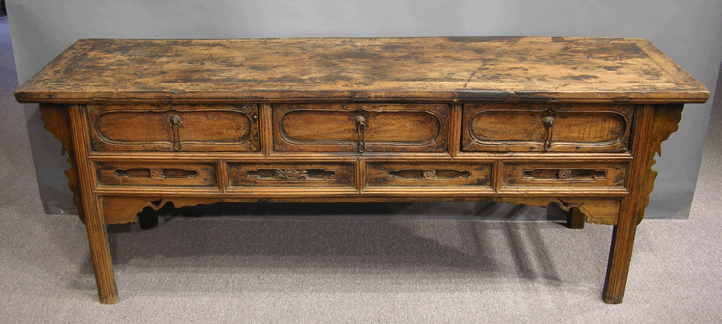 14th/15th Century
Elm
Shanxi
84" w. 24" d. 30½" h.
This table exhibits an early traditional style and construction. The top is made up of a floating panel (for adjusting to shrinkage and warping of wood in changing weather), which is attached to the frame members with standard mitered, mortise-and-tenon joints. The legs are visibly tenoned through to the table top. These exposed tenons were originally concealed by lacquer finish and appears as an early technique, prior to the development of more sophisticated joinery technique.
The table has a weathered look, retaining only scattered traces of the original thin dark lacquer finish. The top surface bears stains, burnt marks, and a few cracks, markings that give it character, establishing it as having lived, been used, and is indeed a genuine antique piece.
This frontally oriented table has three drawers below the top frame, and four "taohuan" panels (general term for narrow, usually horizontally oriented decorative panels commonly associated with early traditional furniture) found below the drawers. Each drawer front is decorated with a deep carved oblong Ming Long Three Drawers Buffet/Altar Table
, cusped at the top and bottom in the middle of the design, and crisply beaded all around. The long iron drawer–pulls are original. Scattered around the drawers outside the oblong design, and around the taohuan panels are hand-hammered boss-head nails, frequently found on Yuan, Ming, and early Qing period furniture. The drawer bottoms and sides are made of miscellaneous wood panels. Each taohuan panel is set recessed between a double row of molded stretchers, incorporating a beaded deep carved design with lobed ends and decorated with a deep carved rosette in the middle. The apron at the bottom is very narrow in the middle, stretching to a wider and wider floriated-edged apron head at each end. The spandrels are plain, with curvaceous edges. Double stretchers span the legs at each end.
This ancient table survived in excellent condition. It is authentic and its integrity has not been compromised by any restoration. The original lacquer has mostly faded away but the exposed natural color of the wood, deepened and became richer by age, makes it fit in and enhance any home, traditional or contemporary. It is a rare and valuable piece as nothing this old can now come out of China. It is a serious collector's item.