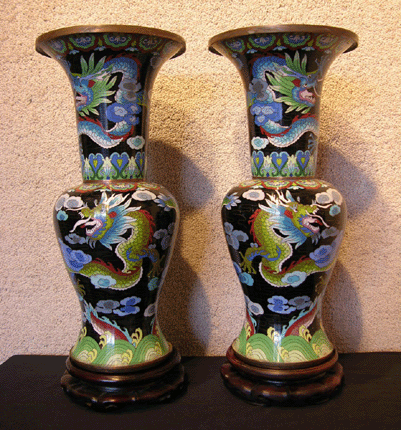 Late 19th – early 20th Century
Copper base enamelware
18" h. 8½" w. d.
The vases are of the long-necked type, flared at the mouth. A thin copper band at the base of the neck separates the neck from the body. The neck is decorated with a fierce five-clawed dragon chasing a flaming pearl among clouds. The flared lip of the mouth is decorated on the outside with a sort of ruyi lappets (a form derived from the ends of a ruyi scepter), and on the wide swath inside with stylized lotus flowers, all on a black ground. The base of the neck has a frieze of stylized lotus petals.
Two five-clawed dragons form the main decorative motif on the body of the vase. With scaled bodies of a serpent, white horns, fluttering manes, circular bulging eyes and sharp teeth in gaping jaws, they exhibit a fierceness associated with celebrated dragons of early time. These fabulous creatures, chasing a flaming pearl and rampaging among stylized clouds, symbolize the spirit or divine essence of the gods and are the epitome of concentrated energy and dynamism.
Around the shoulder of the vase, below the neck, a frieze of ruyi lappets is repeated. The decorative scheme at the foot of the vase is a frieze of stylized waves, completing the overall theme of dragons cavorting in waves. Folk lore has it that in the spring, the dragons rise from the waves to ascend to the clouds in the sky; in autumn they retire to the seabed.