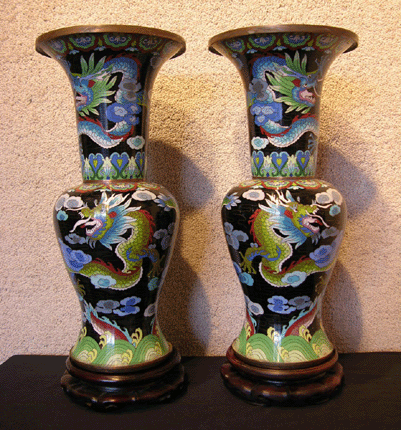 Attribute to early 20th C.  Came out of China in mid 1990s.  Lively portrayal of writhing dragons. 18″h, 8.5″ w
The vases have a copper base. The long neck and body are both decorated with a writhing dragon with fluttering manes, circular bulging eyes and sharp teeth in gaping jaw, exhibiting a fierceness associated with celebrated dragons of early time. This fabulous creature, chasing a flaming pearl and rampaging among stylized clouds, symbolizes the spirit of divine essence of the gods and is the epitome of concentrated energy and dynamism.
The outside of the flared lip of the mouth is decorated with ruyi lappets. The top of the swelled-out body has a frieze of stylized lotus petals. The base of the vase is decorated with a frieze of stylized waves, completing the overall theme of a dragon cavorting in waves. Folklore has it that in the spring the dragon rises from the waves to ascend to the sky, and in autumn it retires to the seabed.
Price: $1750 pair