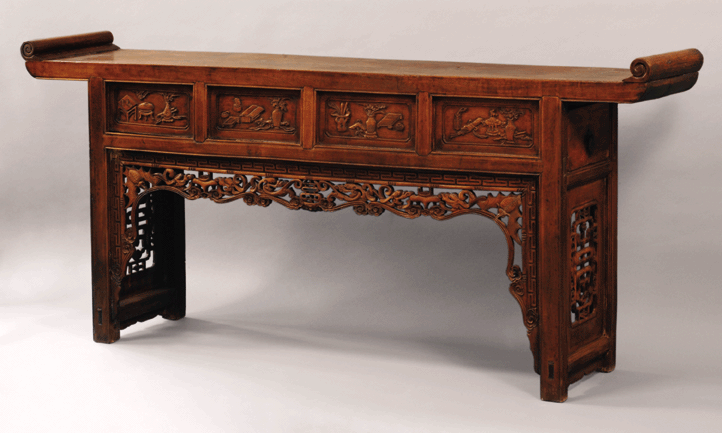 Mid 1800's, Northern Elm, Shanxi.  Quality construction with beautiful carved antiquity designs; drawer slides out at each end; excellent condition.
34½" h. 76¾" w. 15" d.
This magnificent altar table shows excellent craftsmanship.  The top is constructed from one thick solid plank (always indicates quality) and ends with arresting scrolled inverted flanges.  Below it, four framed recessed panels edged with beading show deep relief carvings depicting the Four Accomplishments of the Scholar: pictorial scrolls, books, chess board and musical instrument (zitar).  The apron consists of two beautifully carved parts: the top is carving of a recessed key-fret or wandering-clouds design (signifies a wish for wealth from above) between beadings and continuing down the side of the inner legs as spandrels; hanging below this part is a magnificent openwork carving of the running dragons (favorite design during the Emporer Qianlong period) with a canopy (royal grace) in the middle and a bat (symbol of happiness and prosperity) at each corner.  This long table has no drawer opening out from the front but has one sliding out at each end.  Below the drawer and between the legs is a panel with openwork carving of a symbol of "long life" flanked on each side by motif of a bat with each wing tip grasping an interlocking circle meaning "everlasting".
This table, with outstanding construction and superb carvings of auspicious motifs, shows it was made for a member of the elite scholar/official class.  It is sourced from Shanxi and was collected in the1990s when China opened to the outside world.  It survived in excellent condition.  It is rare today to find an antique table of this quality and beauty.  It captured the attention of everyone who saw it and wanted it, but it needs a worthy owner, one who really understands the meaning of the carved symbols and magnificent construction.
Price: Price on request