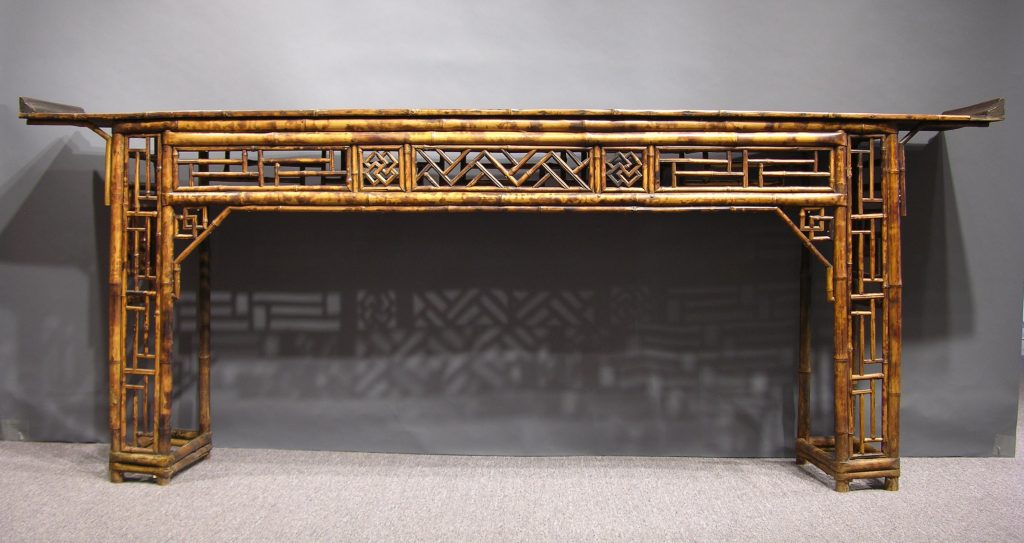 18th Century; Elm and speckled bamboo; Shanxi                                                                                   86″ L, 13.5″W, 33″ H
This long bamboo table is constructed in ancient traditional method, without glue or nails.  All the pieces are fitted together by tenon construction method, a very labor -intensive process.  The thin top panel is made of elm and has everted ends.  It overhangs the main body with a framework of speckled bamboo stretchers and slats, creating a frontal panel with beautiful lattice openwork.  Within this panel with T-fret latticework are two squares with the endless-knots design signifying long life and perfection.  A simplified form of this design is shown on front legs corner spandrels.  Bamboo framed legs support the table, with the pair of front legs decorated with T-fret design latticework in front, leaving the sides and the back pair plain as this table is meant to be put against a wall.  The pairs of legs are strengthened at the base with double bamboo stretchers lashed around the vertical posts.  The posts end slightly off the ground to prevent possible damage from a damp ground.  Bamboo is pliant and strong but is susceptible to water damage, causing possible splitting when dried.
This altar table is quite rare as not many bamboo-furniture this old survived, especially one so delicately constructed.  On this table, a few bamboo slats are loosened but can be fixed.  Some bamboo slats are slightly split but not affecting the stability of this table.  The wood panel at the top shows some warping as it is made of a piece of thin elm wood.  On the whole, this table presents an elegant profile and will grace any room it is placed.  One similar one is seen in a magazine doing just that.
Price: