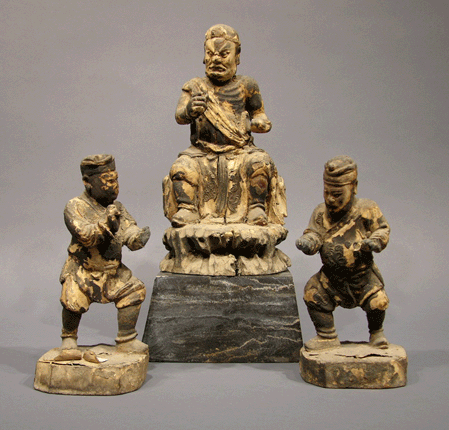 18th C, Nanmu wood, Shanxi.
12" h. 6¾" w. 6½" d. (Larger)
9" h. 4½" w. 3½" d. (Smaller two, approx.)
These three Taoists are depicted engaged in Tai Chi.  The concept basic to Taoism is in its belief that internal alchemy and various spiritual practices can improve health and extend life, theoretically even to the point of physical immortality.  Taoist beliefs thus relate to the symbology of Tai Chi, or the Yin/Yang symbol, which focuses on nature, the relationship between humanity and the cosmos, health and longevity. Taoists also believe that life should be peaceful and full of joy.  Throughout history, Chinese alchemy, astrology, cuisine, Zen Buddhism, several Chinese martial arts, traditional Chinese medicine, fen sui, and many types of qigong (essential energy of action and existence) have been intertwined with Taoism.  As "Tao" means "path" or "way", essentially "destiny" or "principal", it is best to view Taoism as a way of life than a religion.
Nanmu is a valuable wood treasured by Ming literati.  This group of figurines, made of this special wood, was probably commissioned by a wealthy family.  It had polychrome and gilding but now only minute traces of red coloring and gilding remain, leaving only some black lacquer.  The action depicted by the group doing Tai Chi is quite lively.  It seems that the two smaller figures are taking instruction from the big one, who might already have attained enlightenment.  An interesting trio!
Price: Est.: $1500