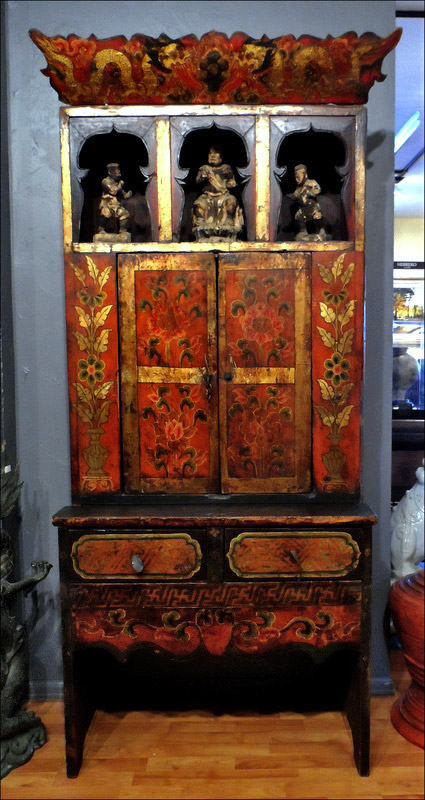 16th/17th c, pine, mineral pigments, gesso, gold leaf. 33″w, 17.5″d, 79″h.
This cabinet illustrates the richness of furniture made in Tibet for offering to deities in its early days.  The top is crowned by a scalloped-edged lintel decorated with a pair of fierce confronting dragons chasing flaming jewels.  The dragons represent supreme power, and the flaming jewels the essential component of the Buddhist faith.  The dragons are gold-leafed with dark mane and dark nubs on the body representing scales.
Below the lintel are three open niches for placing three deity figures for worship.  Each niche opening is curvilinearly framed by a design in the shape of a "ruyi" (symbol of granting wishes), and each niche is separated by a gold-leafed slat.  The storage compartment below has a pair of doors in the middle and a narrow panel on each side.  Each door is framed by a gold-leafed border with a gold-leafed band crossing the middle of the panel.  On each side of the band is painted sprigs of gilded lotus flowers with mineral colors.  The flowers in a religious sense represent enlightenment.  On a panel beside each door is painted an urn with flowers and leaves filled in with mineral colors and gold-leaf.  This decoration signifies eternal harmony, a reliquary and represents offerings to the Buddha.  Inside the storage compartment is a shelf dividing the open space.  The relative shallowness of this compartment with shallow shelves suggests that this space was used for storing small offering vessels and bowls that hold yak butter cakes and water.  The crusty surface on the shelves supports the idea butter cakes were stored there.
Below this storage compartment is a desk-like structure, with a narrow panel at the top providing a ledge for supporting offering vessels and bowls necessary at religious rites.  This "desk" has two drawers used for storing items related to the rites.  Each drawer front is decorated with a "Taoyuan" design with lobed-shape ends within a T-fret motif on an orange ground.  The T-fret or key fret is an auspicious design signifying wealth, in this case spiritual wealth.  Below the drawers is an apron with a wide band painted with the stylized swastika motif symbolizing ultimate harmony and the Seal of the Heart of the Buddha.  The rest of the board is painted with a scrolling floral vine design, with a scalloped hem.
This cabinet has simple door and drawer pulls made from pieces of leather, likely from a horse a Tibetan nomad used as transportation.  The side panels show hand-chiseled blade marks, evidence this is a hand-made antique piece.  This is a rare cabinet as not many religious items, especially a big temple chest, survived a cultural revolution when such items were specially sought to be destroyed.  Now Tibet has banned any antiques, especially of religious significance, from leaving the country to preserve its heritage.  This magnificent temple piece is a treasure today.
Price: