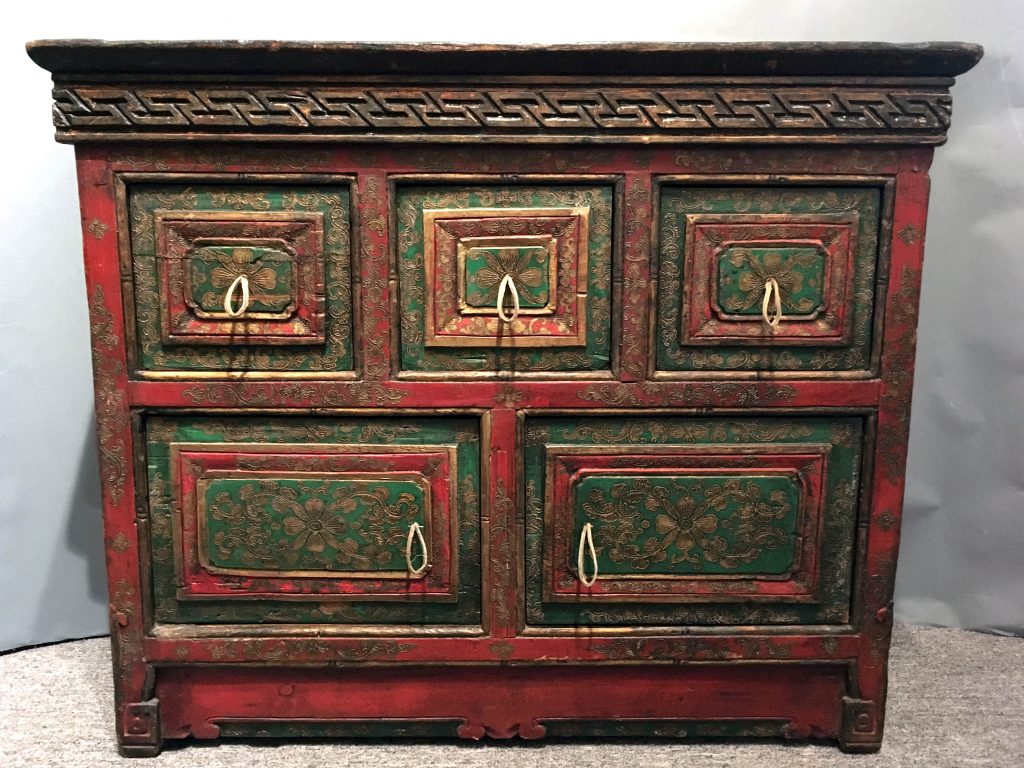 18th/19th C., pine, mineral pigments, gilding.
38.5" L x 18" D x 36"H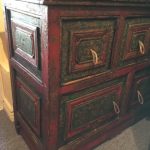 A "tenchog" is a chest for storing religious items such as incense and other offerings, ritual vessels, scriptures and books.  Its surface can be used as an altar table upon which deity statues can be placed.  If the chest is a simple one in a lama's private room or in the home of a family of modest means, part of the interior would be used for general storage.  One with so much ornate decoration and gilding would likely be in a lama's private dwelling or the prayer room of a prestigious person.
In Tibet, deep colors like red, green, yellow and blue were the colors used for decorating furniture before the late 19th century.  This chest has main frame members painted in red and all recessed drawer front panels and side panels with a green background decorated on top with gilded floriated designs.  The top is made with a thick plank which extends over a wide band with a frieze of gilded deep-carved wandering-clouds design (meaning a wish for blessings from above) between beaded top and bottom edges.  This decorative band continues around the corners to the sides.
Below this decorative top are three drawers on the top row and two storage compartments with pivotal doors below.  All the drawer panels and doors are constructed in the floating-panel technique, similar in basic design of a picture frame.  The convoluted layers are in red and green recessed within gilded borders and rest on a green ground with gilded floriated decorations.  A loop of leather acts as drawer and door pulls in keeping with the Tibetans' nomadic past.
The sides of this chest are made of floating-panels similar to the drawer panels in front.  A baseboard in red is recessed below the two storage compartments and set between the angular patterned feet of the chest frame members.  This board has carvings of stylized "ruyi" design at its beaded bottom edge.  This Tenchog survived in excellent condition, with its vivid colors intact due to the use of natural mineral pigments.
Original Tibetan chests are rare in the world today as many were destroyed during the Chinese Cultural Revolution and since then Tibet has banned its fine antiques from leaving the country.  Many reproductions were made for the tourist market, with very different value.  This piece is unusual because unlike most Tibetan chests, this piece is decorated like many pieces of sculpted art framed and assembled on a piece of furniture.  It is a piece very expensive for any craftsman to try to reproduce.
Price: