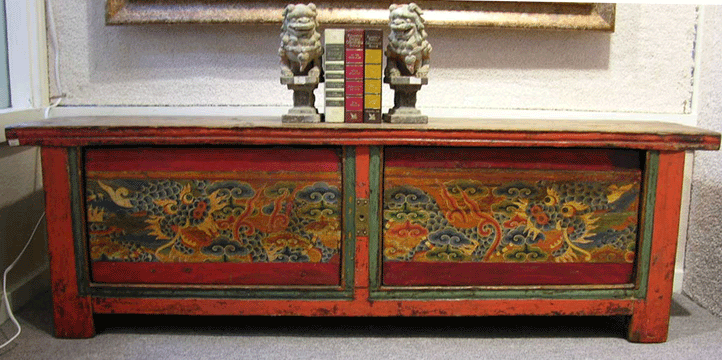 18th/19th c, pine, natural mineral colors.  Rare Tibetan religious piece with auspicious motifs; excellent condition
17¾" h. 58" w. 14" d.
This cabinet is a form of "tenchog" in Tibet, a low cabinet for storing religious items.  It has a long seat-panel, with a storage compartment below.  The cabinet can act as a low dining table with the Tibetans sit on cushions on the floor, but more commonly the surface would be used as an altar table, supporting a deity statue, offerings, butter lamps, teacups and Buddhist scriptures the reading of which is an important activity in Tibetan religious life.  The storage compartment would hold ritual items and scriptures not in use.
The chest is constructed in the mortise-and-tenon method and has frame members and paintings painted in cinnamon red, green, dark blue and yellow, colors used before late 19th century.  The seat-top was originally painted a dark brown but the color has faded, with only traces of it left on the surface.  The storage compartment is behind a pair of swivel doors recessed in the framework.  A brass lock-plate on the middle frame member, between the doors, suggests the compartment could be locked at one time, but the lock is missing.  Each door front has painting of a fire-breathing dragon among cloud motifs.  Dragons are commonly associated with power and status.  On Tibetan furniture, dragons are portrayed as guardians of the Dharma (Buddha's teaching).  Double dragons convey importance and special value to the person or household commissioning the piece.  Cloud motif signifies a wish for blessings to rain down from heaven.
This low chest, with auspicious Buddhist motifs painted on it, was likely a piece made for a lama's private quarter or for the home of a prestigious religious person.  The piece survived in excellent condition with the vividly painted decorations intact.  The use of natural mineral pigments and the exceptional dry climate of Tibet no doubt helped in preserving the exquisite paintings and kept the chest in good condition.  Authentic Tibetan antiques are rare as the Tibetan government has banned any antiques, especially ones with religious context, to leave the country.  This "tenchog", with rare double-dragon design, is an important and valuable Tibetan relic.
Price: $22,000