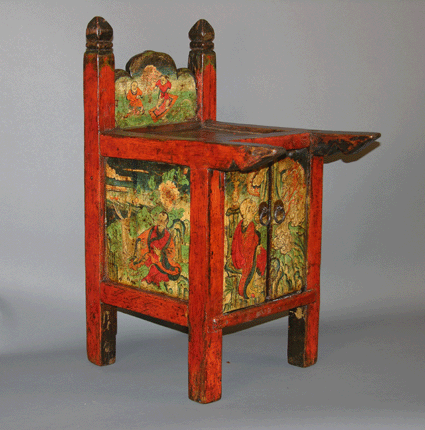 17th/18th c; pine, mineral pigments.  Rare as not many "torgams" survived.  Auspicious painted decoration.  21½" h. 10¼" w. 14½" d.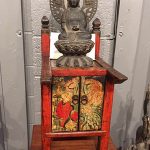 A torgam is a type of Tibetan cabinet used to store ritual offering cakes called "torma."  This small ritual cabinet is a very rare piece because of its form and auspicious painted decoration and also because not many of this type of religious relic survived.  It has some of the looks of another Tibetan offering cabinet called a "pegam", which has a scalloped back panel at the top and molded panels at the sides to hold ritual text.  This torgam has the scalloped top back panel but no side panels; instead, there is a double-doors compartment in front to hold the torma as offerings to a deity statue placed on the platform above.
The vividly colored paintings tell folk stories of some fortuitous encounters that bode good fortune and longevity, as indicated on one panel by a deer and cranes; on another the appearance of a dragon to a scholar is a sign of achieving high status; and then cloud-forms signifying wishes to rain down from heaven. This unusual torgam was likely commissioned by a person of high rank to be placed in a private chapel dedicated to some guardian deity in his home.
Price: Est: $7,900