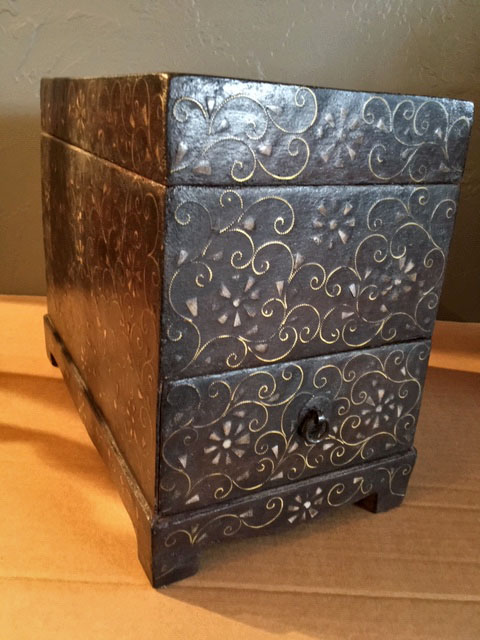 1860, chestnut wood, sharkskin/brass wire inlay, found on Kang-Wha Island, Kyung Ki Do Province.  8″ w, 14″ d, 11.75″ h.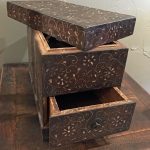 This box was used to store ink-stone, brushes, and writing papers for a member of the scholar/official class, or may even be a member of the royal family.  Writing and doing calligraphy painting was the favorite pastime of this elite class of people.  The expensive inlay material used on this box shows this was a highly treasured piece for the owner.  He must have found disfavor at Court and was sent into exile on Kang-Wha Island, a political prison colony for the Kingdom of Korea for two thousand years.  He was allowed to take his personal belongings with him because many household items were not considered important and valuable by the government at the time.  This box and many other unique items were recovered by an American missionary doctor who went to the colony to tend to the sick and dying after the Japanese Occupation.
This exquisite little box is decorated on all 4 sides.  The wooden body is lacquered black all over, then inlaid with scrolling twines in reverse brass wire bearing flower petals in sharkskin.  The unique material used to decorate this box and the craftsmanship employed make this box worthy to be displayed in an art institute or museum.   It is certified as rare by a Professor of Korean History and Antiquity, one of only thirteen appraiser approved by the government in the 1900s.
Price: