Attribute to 20th Century; Western Grasslands, Cameroon, Babanki style.  Size: 63″ L x 18″ W x 12″ H.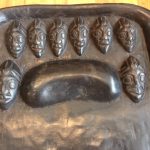 The figures carved on this bed are stylistic representation of the Babanki people of Cameroon Grasslands, characterized by a rather narrow, long face and wide-spaced eyebrows outlined by an engraved contour, and almond-shaped eyes lie close together at the height of the bridge of the nose.  The notches around the nostrils meet at the point of the nose.
The surface of the bed has a low raised frame on three sides with eight masks in high relief, and a neck-support at the head of the bed.  Since the facial features of the eight masks at the head of the bed permit no determination of gender, it can be identified only based on the tongue-shaped coiffure, which corresponds to that of the royal wives of the Babanki tribe.  The surface of the bed is supported on the three sides by a row of pigmy standing figures on a base.
Since usually only tribal royalties get to sit on a stool or lie on a bed while commoners sit or lie on the ground, it is safe to say this bed was made for someone of very high status in the community.  It is rare to find a bed such as this, and in such good condition.
Price: