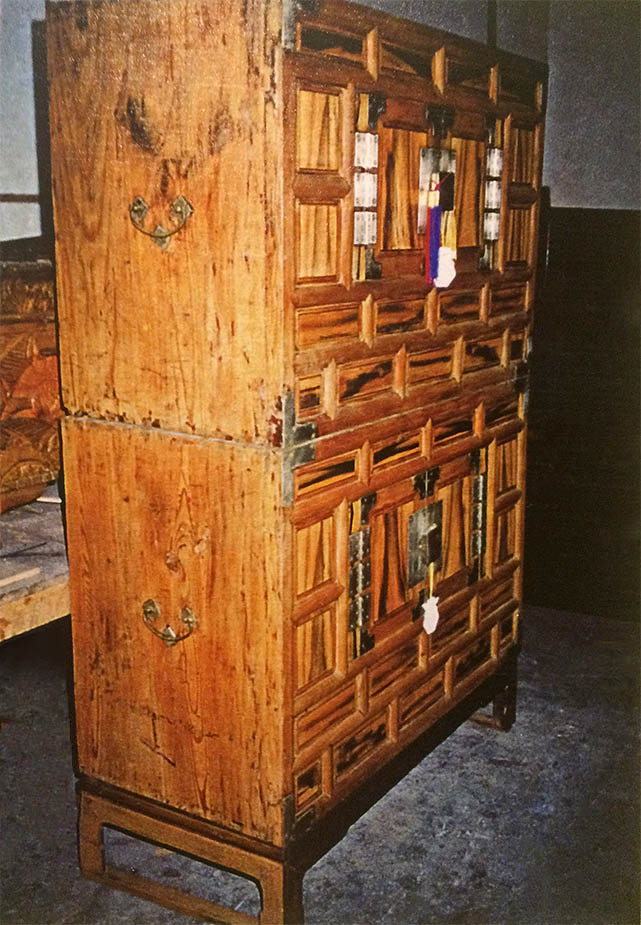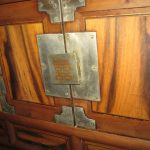 Ca 1880; persimmon and perhaps also paulownia wood, rare white brass, "Double Happiness" in copper on lock-plates; certified                                                  Cheon Chu City, Korea                                                                                      34.25″ w, 16.5″ d, 55.5″ h
Cheon Chu City, Korea, was once where wealthy Yangban land-owning class lived, and where elite scholars gathered, preparing to take an open Imperial Examination the passing of which guarantees upward mobility.  This elite class of people would commission quality furniture to decorate their homes.
The body of each stacked chest is made of paulownia wood which is heavily grained but without contrast in coloration, like it is in persimmon wood used to make the front panels.  Paulownia wood is known for withstanding moisture and temperature changes and is considered to have insect repellent qualities, so it is popularly used for constructing clothing and book chests.
The highly decorative persimmon is used to make the pairs of panels in front.  Each piece of wood used is split to take advantage of the spectacular contrasting dark and light coloration to create mirror images that resemble paintings on the pair of panels.  This technique perfected by Korean craftsmen takes away the need of elaborately painting and decorating a piece of furniture.  The only decoration on wood is the use of metalwork.
On this chest, rare white brass was used in lock-plates, hinges and corner braces.  A distinctive "Double Happiness" motif in copper is incised on white brass on the lock-plate of each chest.  Copper was a valuable metal and white brass alloy became hard to find by the end of the 19th century, making this double chest an expensive piece.  It was likely made for the wedding of a couple from an elite class.  Brass handles at the sides of each chest help in moving the chests around.  This piece is certified by a Professor of Korean History and Antiquity, one of only thirteen certifiers approved by the government in the 1900s.
Price: