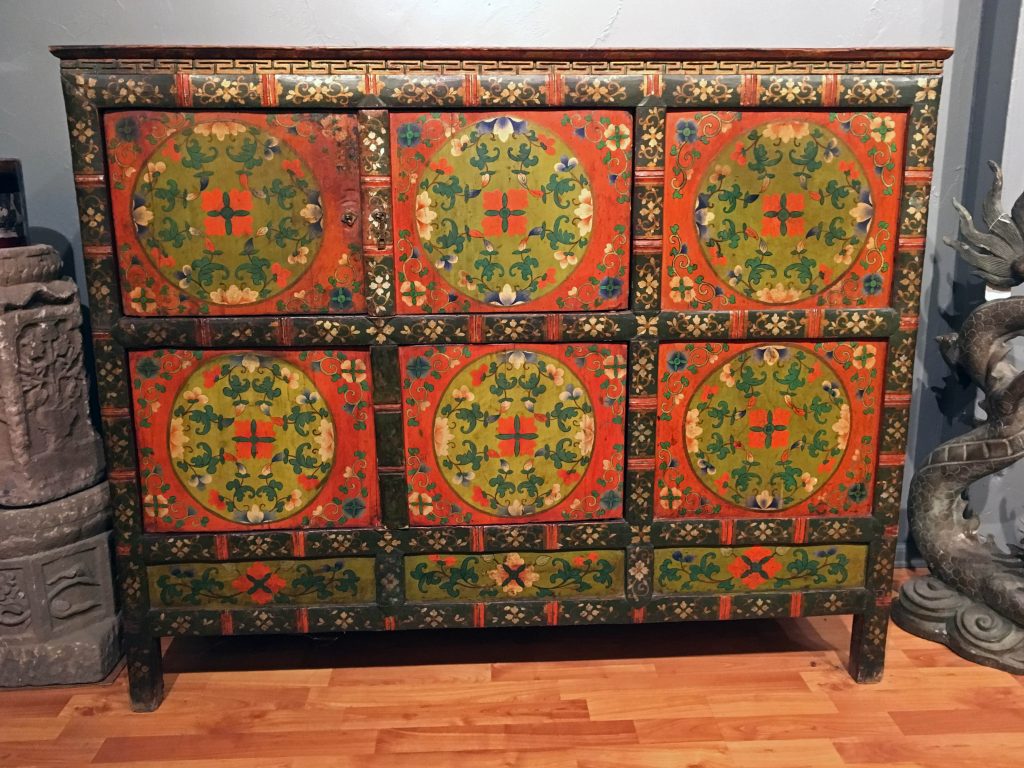 19th C.; pine, mineral pigments.  Authentic antique piece; in excellent condition with painted designs intact.
42¼" h. 52½" w. 18" d.
This is an authentic handcrafted Tibetan chest with the framework showing mortise-and-tenon construction and painted with natural mineral color pigments.  The brown lacquered top consists of two wood panels with some cracks showing on the front panel due to age and weathering.  Below the top is a narrow, recessed neck with relief carving of gilded angular continuous-life design.  The painted panels in front are recessed from the framework.  The framework separating the panels are painted like bamboo slats, colored green, with cutout section struts painted orange.  The green sections have floral motifs with gilded scrolling stems and stylized flower heads in creamy-white.
There are six big square panels on the top and three narrow ones at the bottom.  Each top panel has an orange background and decorates in the middle with a stylized floral medallion and trailing floriated design at each corner.  The floral designs are in mineral colors of orange and blue on a green background, primary colors used before the mid-19th century.  The bottom narrow panels have a green background and are decorated with similar floral design and colors.  A set of panels in the middle of the top level and one set below act as doors to the interior storage space.  The panels beside each set of doors are stationary.  The doors swing open and shut on wooden pegs and can be lifted out by pivoting them to a 90-degree angle.
This chest is an authentic antique as shown by the presence of traces of yak butter grease on parts of the surface.  Yak is the beast of burden in Tibet.  For centuries, Tibetans used its fat as oil in cooking and as fuel for their lamps which seem to be burning night and day.  After years of exposing to this living ritual, most furniture in a Tibetan home would have collected some grease on its surface.  Authentic Tibetan antiques are rare as many were destroyed during the Chinese Cultural Revolution when many religious and cultural relics were destroyed in a "class struggle".  Due to political turmoil, many Tibetans sought exile in neighboring Nepal where many of them tried to make a living selling furniture and thangka reproductions to sell to tourists.  The reproductions might be decorative but are not antiques and the value is vastly different.  Today, the Tibetan government has banned any antique to leave the country to preserve its heritage, so authentic antiques are rare and valuable.  This beautifully painted chest survived in excellent condition.  It would do beautifully in a home with contemporary décor that could be a little plain and austere, giving the room warmth and charm with its colorful decorations.
Price: