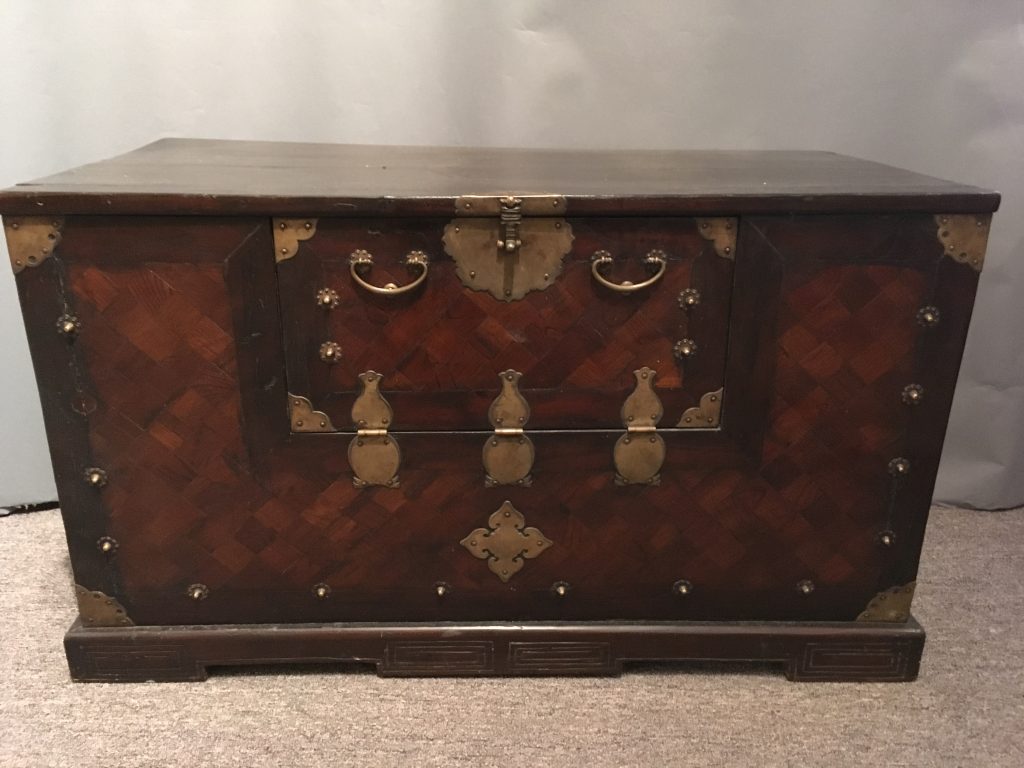 Circa 1860; pear and chestnut wood inlay; yellow brass; Kyung Ki Do Province.  Certified.  39″ w,19.5″ d, 23.25″ h
This antique chest has a unique checker pattern front made from valued pear and chestnut woods.  It is certified as a blanket chest (bandaji), but it does not have the (half closing) door stretching the length of the chest usually characterized by a bandaji.  With a small door in the center of the chest opening downward with two door pulls and decorated sumptuously with yellow brass, it is more in Korea called a "chang" or "head-side chest" built for a high-ranking member of the scholar-official class.  Used as a "chang", it would be placed in women's quarter close to the mat where a woman sat during the day or slept during the night, and used for storing clothing needed frequently, such as nightclothes.  There are some elements on this chest, though, that show it could be used by a high-official for him to store his documents, manuscripts, and private papers in his quarter.  The checkered pattern seems a little masculine and the brass-work, though could be a little too elaborate for a man's quarter, has motifs more suitable for a scholar.
The chest front is decorated with flat corner brass braces on the four corners of the main body as well as the door panel in front.  The lock-plate on the door has floriated edges, with a tongue fastener in the shape of a stylized elephant trunk.  Three door hinges connecting the door panel to the main body of the chest are in the shape of a gourd, symbol of abundance.  Below the middle gourd hinge is a four-prongs "pulloch'o" fungus, symbol of long life.  The chest has the traditional dovetailing and wooden nails construction.  Decorative flower-head studs camouflage the nail heads.  It stands on an attached molded stand decorated with relief carving of the angular scrolling design meaning "everlasting".  The wood of this chest has a richness probably created by perilla oil rubbed several times into it.  With such sumptuous styling and labor-intensive construction, this chest was likely made for a high-ranking member of the scholar-official class.  It is certified by a Professor of Korean History and Antiquity, one of only thirteen government approved certifier in Korea in the 1900s.
Price: