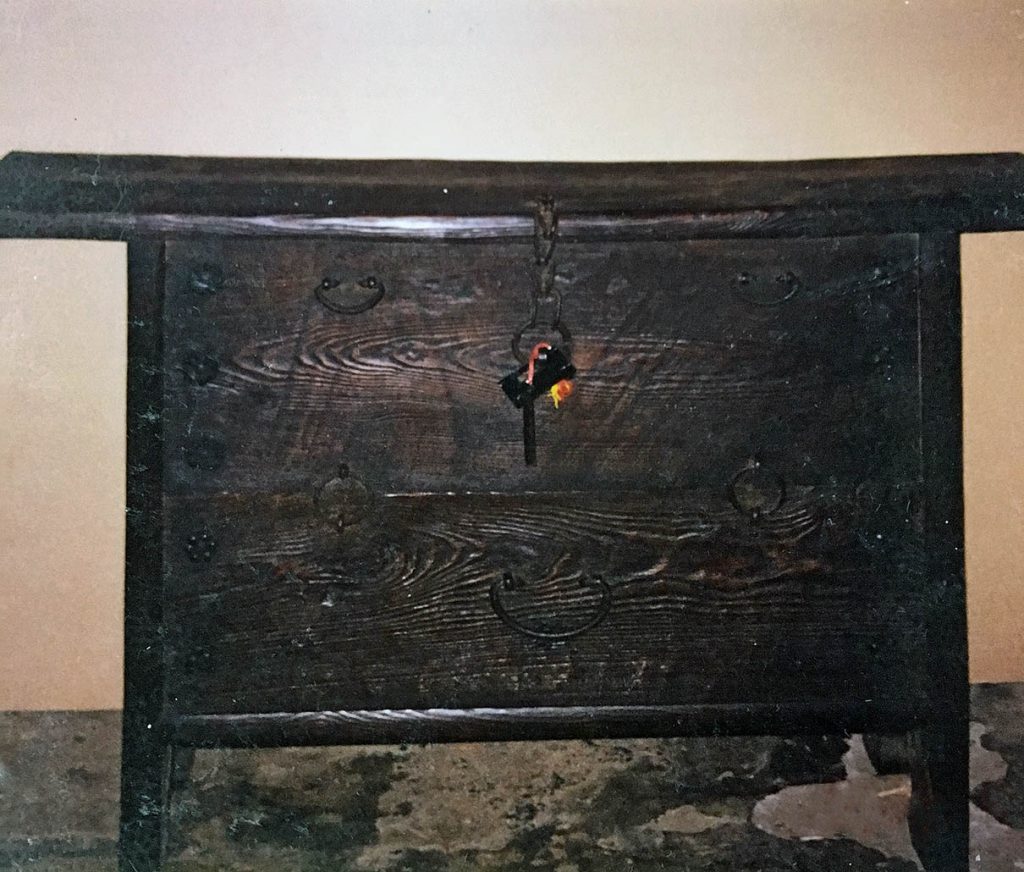 1850 or earlier; chestnut or zelkova with dragon pattern grains; primitive iron fittings; found on Kanghwa Island.  H: 34.5″, L: 36″, D: 15.5″
This chest is made from a chestnut or zelkova wood that has so many impressive grain patterns resembling coiled dragons that the Korean craftsmen named the wood "Dragon Wood".  This wood was highly prized by both Korean and Japanese literati and craftsmen.  In both countries, the dragon signifies a heavenly king.
This chest, with no decorations other than the impressive grain patterns and primitive iron-fittings, has the look of a piece of furniture older than the 19th or even 18th century ones usually found in Korea.  Its austere simplicity is what Confucius era scholars favored.  This chest exudes a grandeur with its simplicity.
This chest was found in Kanghwa Island after the Japanese Occupation on Kanghwa Island, a political prison colony for the Kingdom of Korea for two thousand years.  It was recovered by an American missionary doctor who was invited to go there to treat the sick and the dying.  He was allowed to take away any furniture the exiled took there because the ruling scholar/official class did not care for furniture.  For his humanitarian work, the doctor was honored with Korean citizenship.  He spent the rest of his life in Korea.  This chest was later passed on to a Korean Professor of Korean History and Antiquity who certifies this chest as rare.  Many pieces he certified are now in museums all over the world.
Price: