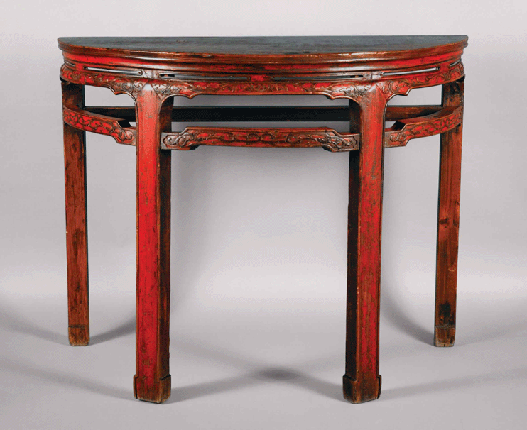 18th C, Camphor, Fujian.  Height makes it likely used as valued altar table, antique lacquered and carved half-round tables rare.
45" w. 22" d. 36" h.
Half-round tables are among some of the most beautiful furniture to come out of China.  This red-lacquered high waisted piece is an exceptional piece because it was made taller than most half-round tables.  It was made to stand by itself, it being meant to be an altar table for ancestral worship.  It would support deity figures or family ancestral images, incense burners, and offerings of food.  Buddha and ancestral figures were revered by all classes in China in early periods.  The folks would put these figures in high places so they could look up to them to pray for blessings.  When not used as an altar table, the elite class would use it to show off antiques and art objects.
The top of this table is made with a thick slab of camphor wood and has a 'water-stopping' molded edge.  The narrow waist section is pierced by six long and narrow "taohuan" panels, a feature associated with early traditional style in China.  Below the waist is an arched apron separated into three sections by legs with sword-ridge molded ends.  Each section is decorated with low-relief carvings of scrolling flowers and has beading along the lower edge that continues all the way down the beaded sword-ridge molded legs which terminate in modified hoof feet.  The high humpback stretchers between the legs have relief carvings of small "chi" running dragons, a decoration evolved during Emperor Qianlong (1736-1795) period.
This table is artfully constructed and finely carved.  The top shows slight burn marks from its use as an altar table, but it survived with its original red lacquer coating intact.
Price: