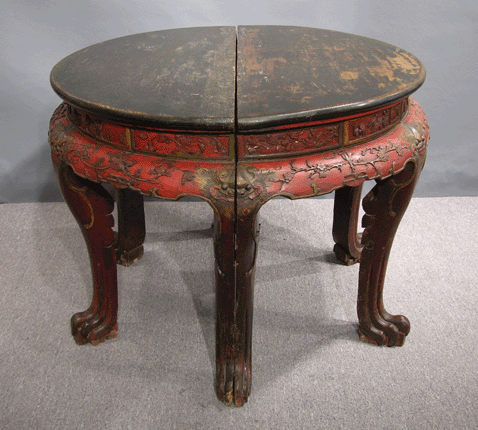 17th/18thC, Camphor, Hunan.  Rare five-clawed dragons cabriole legs.          33″ h, 44″ d
This high-waisted Half-Round Table is constructed with a thick slab of camphor wood on each table-top.  Each top has a "water-stopping" molded edge.  The surface is covered with thick black lacquer which, with the passage of time, thinned out in some areas and shows "snake-skin crackle" at places.  Traces of gold color are noticeable on the lacquer, suggesting the top might have been once gilded with some decorative designs.
The high recessed waist of each half-table has decorative panels with relief carvings.  Three panels facing front show lifestyle of the elite class at play, with carvings of seasonal flowers and birds on a panel on each side.  The flared apron below the waist has trailing floral relief carvings edged with gilding.  This apron with undulating gilded beaded edge is complimented by a carved, lively gilded dragon head at the top of each of the six cabriole legs which end with five claws.  A five claws dragon design was usually restricted for use only by a member of the royal family in China in that early era, this pair of half-round tables must have been made for someone of high status.  It would have been used separately beside a doorway, or as a round vestibule table.  The cabriole legs style has been around China for centuries and might have influence the development of furniture style in Europe in the 18th century.
Except for a little damage to the claws due to being stored in some damp government warehouse during periods of social unrest in China, these half-tables survived together in excellent condition.  These tables have been in our private collection ever since they were found in China.
Price: