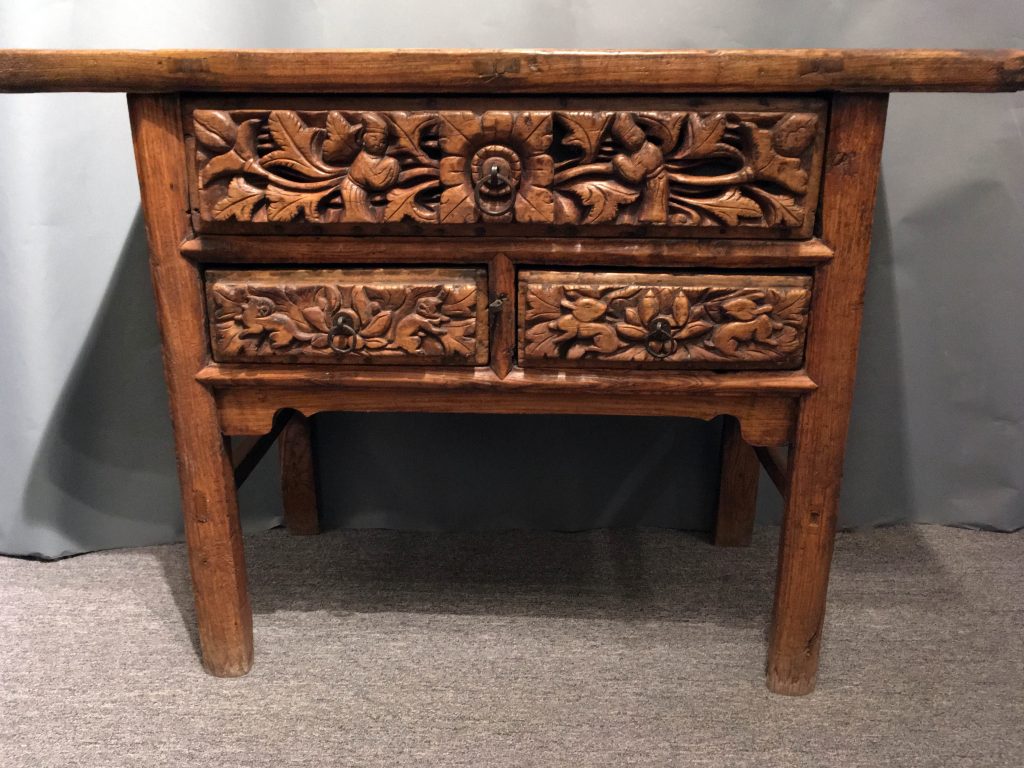 13th/14th c, Sophora (Huai) wood, Shanxi.  Distinguish for age and rare extinct wood that never warps; beautiful deep carving.  46″ L, 20.25″ W, 33.25″ H.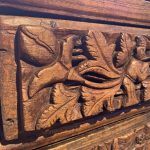 This table is rare not only because of its age but also because it is made of Sophora, a wood extinct after the Ming period.  This wood was favored by early period literati for furniture making as the wood is extremely dense and strong, resistant to moisture, insects, deterioration, and warping.  Its overuse, however, caused its demise by the end of the Ming period.
This table exhibits a vernacular style, decoration, and construction method evident of the early Ming period.  It shows the traditional mitered, mortise-and-tenon construction method, with tenons penetrating through to the surface.  This is an early construction technique prior to the development of more sophisticated joinery.  The top panel is made with a long thick piece of Sophora wood with its attractive deep grain pattern showing.  It has a floating panel in the middle and protrudes quite a way over two tiers of drawers below but has no decorative spandrels below each end.  With the lack of these decorative pieces, it is quite evident this table with a long, wide top was specially made for a scholar so he could spread out a painting or manuscript on it, or use it to show off some of his collection of pottery and vases on special occasions.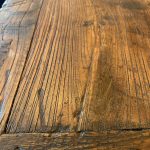 The simple profile of this table with thick rugged pieces of wood making up the top and legs is contrasted by the sumptuous deep carvings on the two tiers of drawers.  The top tier consists of one single drawer with deep carvings of two official-looking figures in Song style clothing standing among thick floral background.  In the center is a raise-relief carving of a rosette where a brass ring is used as drawer-pull.  Below this big drawer is a set of two drawers also ornately deep-carved.  On one drawer is carving of a pair of rabbits, a symbol long associated with fertility.  On the other drawer are carvings of a pair of chi-lions or Fu-dogs, symbol of traditional family's wish for longevity and increase of wealth through successive generations.  The drawer-pull on each of these drawers is an original brass ring fitted through an old brass coin that acts as an escutcheon plate.  These drawers are separated by secondary frame members shaped with sharp beaded "sword ridge" moldings.  A narrow apron has plain apron-heads.  The side and back panels are strengthened by double stretchers with tenons showing through the legs.  This is a table evidently made to please a Taoist and Buddhist era scholar who favors furniture for its simplicity of structure but artistic craftsmanship showing things in nature.
This aged table survived in excellent condition no doubt due to its dense and strong building material.  There is a burn mark near the front edge of the table top, which suggests that this table might at times be used for ancestral or religious worship.  The scar helps to indicate this table was appreciated and was well used.
.
Price: