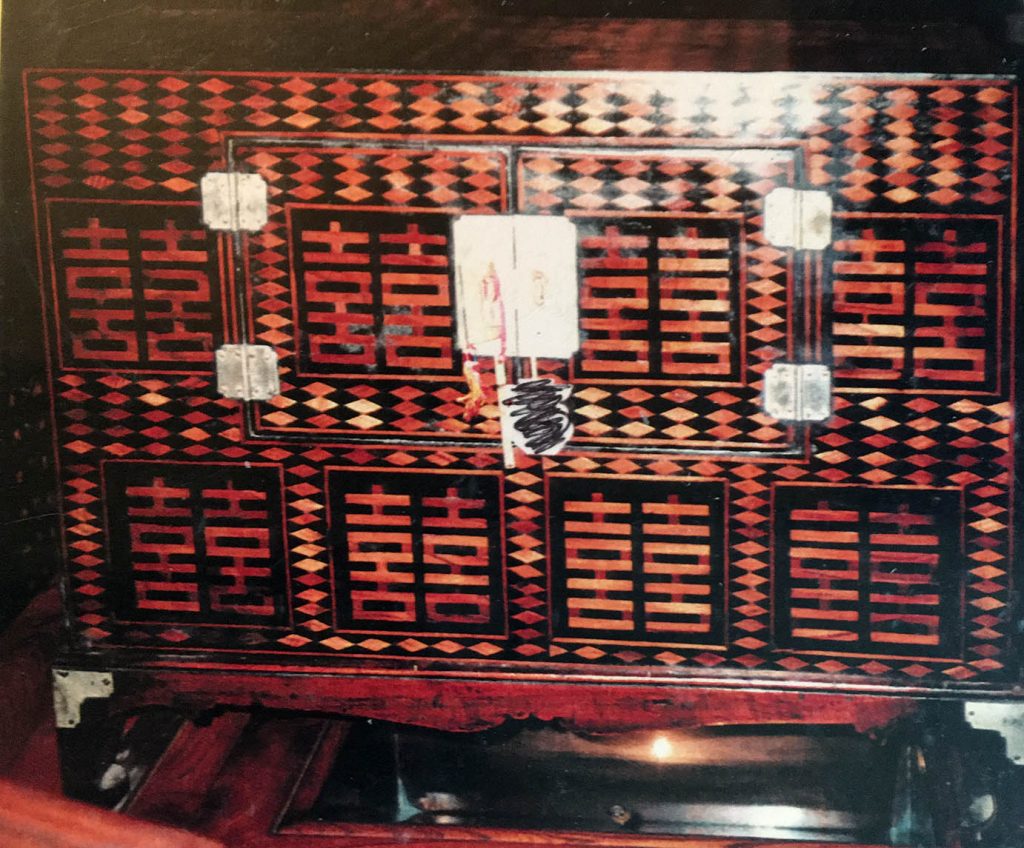 Circa 1870, Yi Dynasty; chestnut and pear wood, rare white brass, found on Kanghwa Island, Korea, Certified.
This chest made of chestnut wood has its frame first applied with a coat of black lacquer, then decorated with the "Double Happiness" wedding motif made of pear wood inlaid in the front panels, surrounded by inlays of a diamond design (signifying wealth) that also decorate the surface of the top and sides of the chest.  The lock-plate and hinges on the front panels are made of white brass, a metal with components very hard to find in later periods and so became valuable.  The glowing color of the pear wood on a dark ground, with the rare white brass metalwork make this chest stand out magnificently.  It is further enhanced by sitting on a decorative stand with a curvilinear carved apron decorated at each end with a unique white brass corner-brace and short modified hoof feet on side floor stretchers.
A chest this exquisitely made was likely given as a wedding chest for a member of the royal extended family or member of the Yangban (landed aristocracy) who later found disfavor with the Court and was exiled to Kanghwa Island, a political prison colony for the Kingdom of Korea for two thousand years.  The chest was found after the Japanese Occupation by an American missionary medical doctor who was invited to go there to treat the sick and the dying.  He was allowed to take any furniture taken there by the exiled as the ruling scholar/official class did not value anything the exiled took there with them.  For his humanitarian work, the doctor was honored with Korean citizenship.  He spent the rest of his life in Korea.  This chest was later passed on to a Korean Professor of Korean History and Antiquity.  We acquired this chest the way it is, without restoration.
Price: