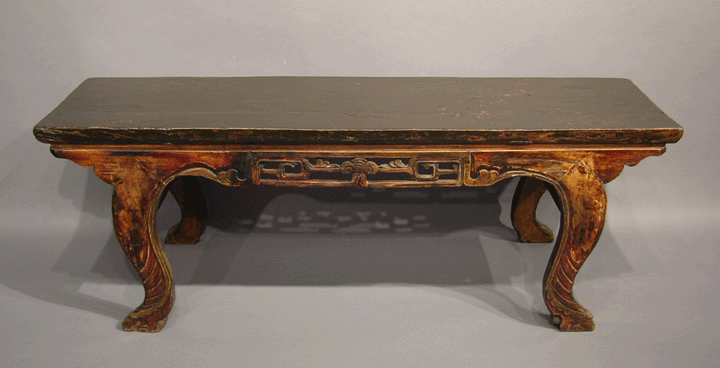 19th C, Elm, Shaanxi.  Unique design influenced by Spanish Moors; so beautifully styled and carved deemed more suitable for temples than homes in time past.
Often referred to as a temple bench, this bench is more decorated than the linear pieces often found in homes.  It was probably salvage from an affluent home as Xian (originally the capital of China) and the surrounding cities in the Shaanxi province had houses more artistically styled and the furniture more ornamental.  Many of the furniture resembles the design of the Spanish Moors, an influence from Spanish merchants who ventured to China over the Silk Road, after the footsteps of Marco Polo.
This bench has a narrow waist.  Below it, the profile of the apron is shaped to a lively, curvilinear line with arches and low-relief carvings highlighted by a pierced continuous-life scrolling motif in the middle.  This apron curves naturally with a generous radius into claw-foot legs, similar to cabriole legs.  Most of the original black lacquer remains on the slab top but that on the legs is slightly worn off, giving the piece a wonderful patina.
Price: