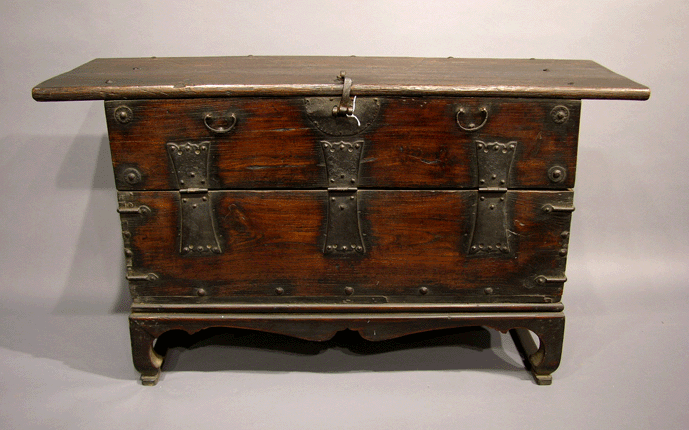 Ca 1870, pine or elm, and zelkova; Kyung Ki Do Province.  Sturdily built with thick metal fittings and hand-hammered nail decorations; certified.
24" h. 43¼" w. 15" d.
This chest is similar to a blanket chest (Bandaji) because of the way the door opens downwards but it was actually used to store a scholar's books and manuscripts rather than for clothes.  The top is made of a thick plank of wood that has such a deep grain pattern it is possible it is a piece of sturdy zelkova, rather than pine or elm which made up the front, sides, and back.  The top plank overhangs the body of the chest.  Big decorative nail-heads show how this top plank is attached to the body.
The body of the chest is made of pine or elm, with the front beautifully decorated with thick hand-hammered iron decorative pieces.  A door panel opens downward about halfway down the front, working on three longevity fungus motif hinges.  Above the middle hinge is a half-round metal lock-plate receiving a tongue-lock originating from the plank top.  Hand-hammered nails, with big round nail-heads showing, attach the metal hinges and lock-plate to the wood.  The top door panel is strengthened with a piece of wood slat at each end inside, which helps to close the door securely.  The slats are attached to the door by nails, with decorative boss-head nail covers shown on the outside.  The half-door is pull down by two metal pulls.  The bottom front part of the chest panel is dove-tailed to the side of the chest and further strengthened by bent iron corner braces and more round-headed nails.
This chest sits on an attached decorative base with curvaceous apron and short curved legs on all four sides.  The legs sit on floor stretchers at each end.  This low chest can easily be overlooked for its small size, but it has the kind of structure, dignity and grace favored by Confucius-days literati.  It was admired in Korea by an antique expert for its complex construction and thick metal decorations.  It is all-original and is certified by an antique expert.  It is important for a piece of Korean antique furniture to be properly certified as The Korean War had a devastating effect on furniture.  Social chaos caused many to be destroyed, with many burned as necessary firewood.  After the war, many reproductions were made, using old pieces of wood for construction to give the piece an appearance of antiquity.  Today, this graceful low chest would make a unique sofa-side or bed-side table.
Price: Est: $2,800