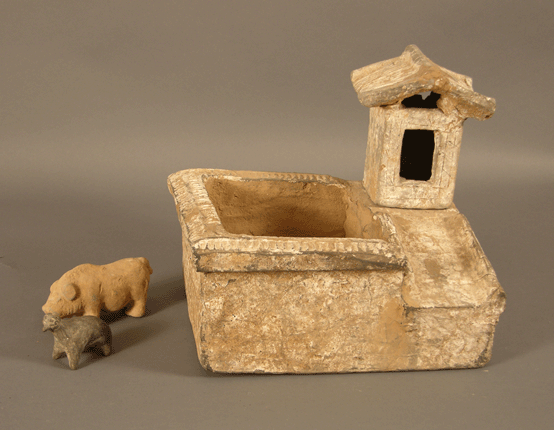 Eastern Han Dynasty (25 A.D. – 220 A.D.)
Terra Cotta
10¾" h. 12¾" w. 10¾" d.
Much information about the everyday life of ordinary people comes from 'spirit articles' and grave figures, large numbers of which have been in the tombs of the rich.  This simple pottery barnyard with a grain tower is shown here with a pig and a goat, all tomb relics.  The tower has an opening on the floor where bags of grain are haul up from a storage room below to slide down the chute in front of the tower.  It is rare to have animals come with the farm structure.  This tomb relic expresses a family's wish for its deceased member to have a rich and comfortable after-life, not wanting for food.  The pottery shows degraded terra cotta.  It was found in China in late 1900s.
(Piece was authenticated at the Arts of Pacific Asia Show in San Francisco in February 2004).
Price: Est: $3500