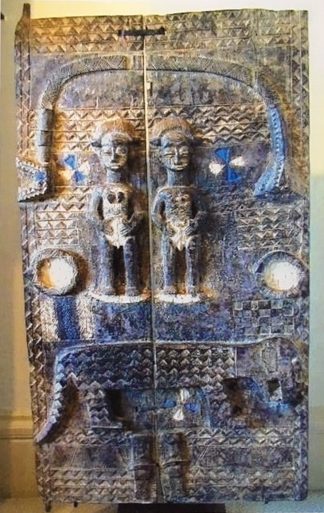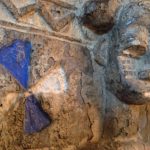 Late 19th/early 20th C; Baule society, Ivory Coast.  44″x 23″
The Baule granary doors are important aspects of architecture that linked the people to common aspects of their daily life.  Most often there would be carving of figures that represent ancestors, but more prominent are sculptural motifs that represent animals or creatures that are important in their tribal mythology.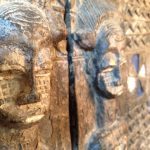 Animal and creature carvings represent nature spirits which are thought to inhabit the jungle.  These spirits are believed to have the ability to possess human beings.  They are also believed to cause good or evil and should therefore be represented in a most flattering manner.  Sculpted in high relief on this door are a serpent and a prowling leopard with sheathed knives beneath it.  The serpent represents the bad, and the leopard with sheathed knives represent might and royalty.  The two round recessed circles represent dishes where grains are put to appease the animals, and to wish the deceased ancestors to bring good luck and good harvest to the dwellers inside the building.
Many Baule doors, like this one, are so beautifully deep carved with equal precision and firmness that the figures sometimes look almost carved in the round, and like this one, are decorated with locally obtained white and blue pigments on symbols which convey some kind of tribal mythical significance.
This majestic door is lashed together with leather strips.  It survived the harshness of a jungle environment in very fine condition, with a varied brown surface slightly weather-beaten, giving it an exceptionally beautiful patina.  This door is a beautiful work of art and would make a unique wall hanging.
| | |
| --- | --- |
| Detail | Detail |
Price: