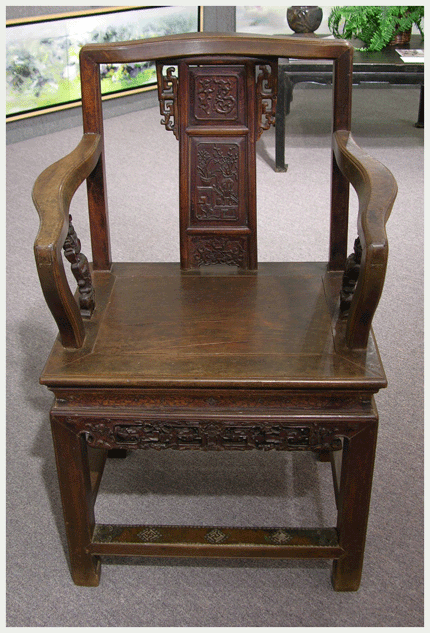 Early Qing Dynasty
Walnut
Fujian
38¼" h. 22½" w. 17¾" d.
It is extremely rare to find a pair of yokeback armchairs so elaborately bur refinely done. The crestrail and armrests are shaped to a sinous curve. The tripartite backsplat has relief carving of a pair of archaic dragons that also smartly evoke the image of the Chinese character "Fu" (good fortune and happiness) on the top panel, beautiful relief carving of a pair of antiquity vases displayed on stands, bearing prunes and iris flowering branches on the middle panel, and a finely shaped false-apron with carving of a lotus flower with scrolling leaves. The backsplat has short spandrels of angular "running dragons" scrolling design.
A most unusual and spectacular feature seldom seen on each chair is the carved armrest sideposts. Normally they are plainly curved or notched posts, but the present ones are shown as posts with deep-carved antiquity vases bearing lotus flowers and leaves, resting on bases with a ruyi symbol on the apron and end with elegant cabriole legs. The vases themselves are elaborately carved with some old textile design on the main body and end with lancet-shaped leaves towards the bottom, much like designs on old cloisonné vases.
The chair is waisted below the seat. The waist in front has low relief carving of a flower design in the middle, with scrolling cherry branches on each side and an endless knot at each end. The side waists each has low relief carving of ribbonned symbols representing the accomplishments of the scholar.
The apron in front and sides have outstanding deep open carving of a Taotie mask, artemesia (ancient medicinal herb, stems used for divination; blissfulness) and bats (longevity and happiness) among beaded angular and rounded scrolls and ruyi (grant all your wishes) symbols. To make the chair even more special, the front foot step is covered with a copper plate with cut-out carvings of three swastika (has the same meaning as "wan," meaning unlimited and eternal) and two ruyi motifs. This pair of chairs, with such outstanding carvings, fluid profiles and quality material used, is clear evidence that they are made for people with status. The delicate proportion indicates they might be made for placement in a grand reception hall where they are more for looks and status than for constant use.