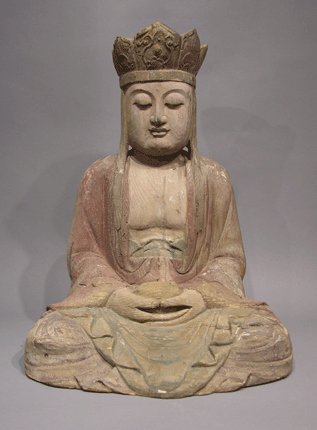 Mid 19th Century
Camphor wood, original polychrome
Hunan Province
24" h. 18½" w. 16¾" d.
This Buddha figure is seated padmasana (lotus position), with both hands holding a beggar bowl. He wears a loose flowing robe, falling open to reveal his chest. His hair is drawn up on top of his head and is completely covered by a tall elaborate crown with a knotted plait hanging down the nape and two long plaits escaping the crown to cascade to the shoulders. His face, with downcast eyes, bears a benevolent expression.
This wood figure is painted with natural mineral pigments and there is sign of gilding. Only traces of gilding but most of the pigments remain. The color pigments, though somewhat faded, present a wonderful patina only aging can achieve. The wood surface shows some cracks from age and weather change. This figure actually was rescued from fire in a temple burned down by Mao Tse Tung's Red Army during the Cultural Revolution. An old big Buddha figure like, with original polychrome and a fine patina, is quite a rare find. As a religious relic, it probably would not be allowed to leave China today.