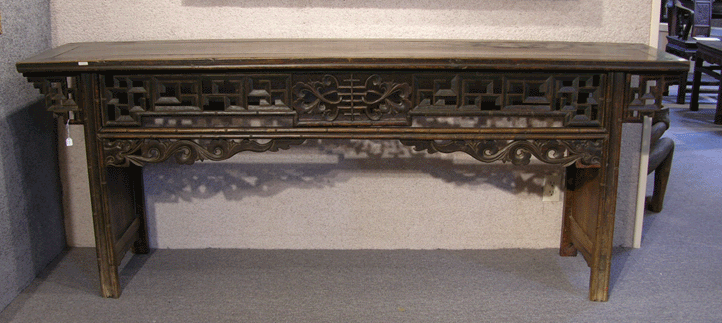 18th Century
Walnut
Shanxi Province
33¼" h. 86" w. 20" d.
Walnut is a highly valued wood in China, as it is all over the world. It is a wood of medium density, rich in oil and dries very slowly, but is quite stable afterwards. Many examples of Qing period walnut furniture have been sourced in Shanxi region and they generally demonstrate refined workmanship, resulting in furniture of high quality. Early pieces are extremely expensive.
The apron on this elegant table has the angular scrollwork so prevalent in furniture of the Qianlong period. The inward-slanted scrollwork is all beaded. Amid this scrollwork is carved a "long life" symbol. The spandrels are carved with a trailing floral pattern. The stretchers on the apron are carved with nodules to appear like bamboo, a technique which emerged during the late Ming Dynasty. The panels between the legs have intricate designs which probably are Buddhist symbols.
This altar table survived in excellent condition, with age marks on the top plank that only give it more character and a fine patina of old age. An elegant piece like this probably belonged to someone of high status.