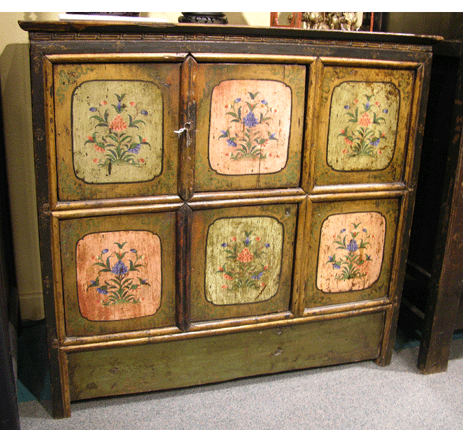 19th Century
Pine, mineral colors
34½" h. 37" w. 17½" d.
The pastel colors, light pink and green, as background for the floral designs on the recessed front panels is quite unusual for a Tibetan chest although the saffron color bordering the designs is very Tibetan. The patches of grease accumulated on the panels pronounce this chest to be an authentic piece of antique. Yak is the beast of burden in Tibet. Its fat is used as cooking oil and as fuel for lamps for the Tibetans. After a long period of time, a film of grease settles on everything in the house. Removing it from a piece of furniture is very tedious work and the colors on the paintings sometimes get rubbed off when the job is not carefully done. On this chest, the superbly done painting is very well preserved even though it is marred in areas with some grease. The grease itself tells the story that this chest has lived for a time and is a real piece of antique.
The construction done on this chest gives evidence that this chest was made for a wealthy family. It is double-framed with an outer framework and then framing around each painted front panel. Double-framing always indicates good quality. The dark narrow outer frame is decorated with finely painted scrolling vine and single flower at intervals. The narrow recessed waist below the top has relief carving of angular "thunder-cloud" motif. Two ample storage compartments are provided.
This chest is all original and is quite rare today as Tibet has lost most of its antiques due to world demand as well as destruction from political turmoil. Many in the market place now are reproductions made in Nepal by Tibetan refugees and Nepalese.