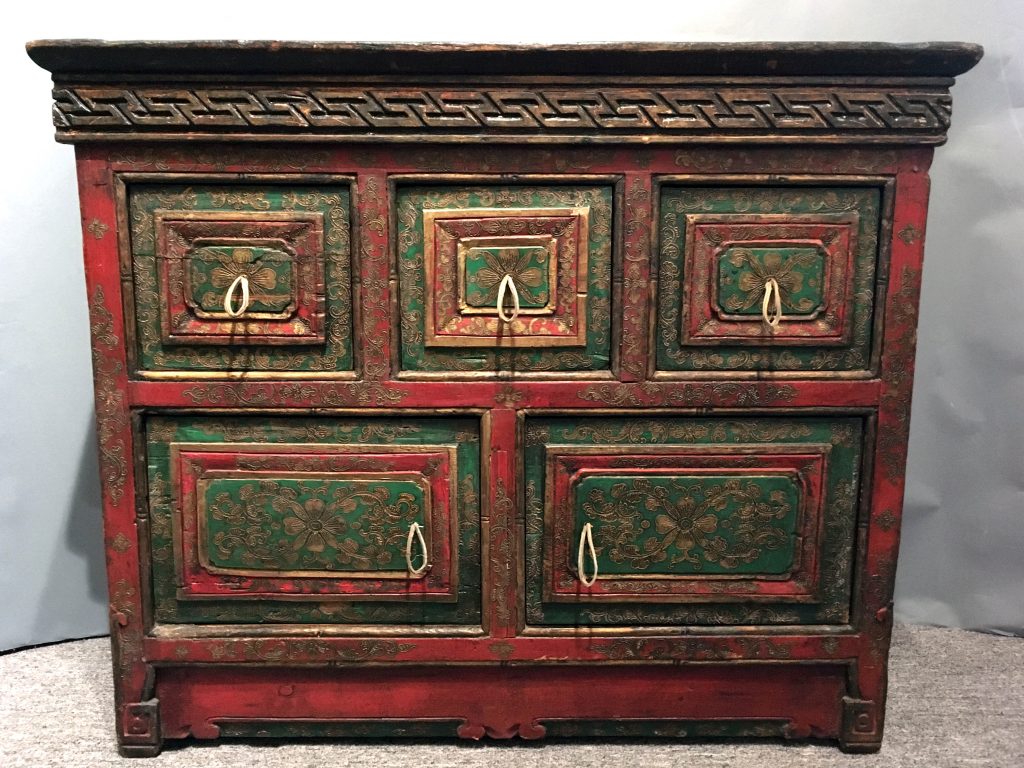 18th/19th Century
Pine, mineral colors, gilding
38.5"L x 18"D x 36"H
A tenchog is a chest for storing religious articles. Its surface can be partitioned off to be used as an altar table upon which statues, offerings and books can be placed. The interior would serve as storage for ritual items that are not in use, and for offering substances such as incense. If the tenchog is a simple one in a lama's private room or in the home of a family of modest means, part of the interior might be used for general storage. One with so much ornate decoration and gilding would likely be in the chapel of a temple or prayer room of a member of the elite class, as gilding is labor intensive and very expensive.
In Tibet, the way of construction of a piece of furniture was not as important as the paintings or decorations as Tibet is on a high plateau where only such trees as pine or fir can grow. Primary colors like red, green, yellow and blue were the colors used for decorating furniture of the early period. This chest is decorated with just red and green, enriched with gilding. It is styled with a thick plank at the top, with three deep drawers below, and two storage compartments with pivotal doors at the bottom. The top is lacquered dark brown, as is the back. The front and sides are all made of tiered panels colored with red and green mineral colors with gilded floral designs set within red frame members.
The top tier is decorated with a gilded flower-head on green ground within a gilded and beaded taohuan-style panel (horizontally oriented decorative panel) with indented corners. This tier is set over another tier, colored red, with a beaded and gilded frame around a raised panel again decorated with gilded floral vines. The bottom tier is colored green, with more gilded floral vines. This same arrangement is repeated on the panels on the sides of the chest. The plain brown top caps a wide waist decorated with deep relief carvings of a band of gilded angular design know in China as "the wandering cloud" design signifying abundance and continuous life. This raised design on a thin red ground set between gilded beaded edges is all done on one wood slat connecting with two others at the corners to make a continuous waist. The drawer and door pulls are of leather, indicating the heritage of Tibetans, most being nomads. This chest, made of multiple decorated panels, has corner frame members ending in angular scrolled feet on pads. It survived in excellent condition.